Details: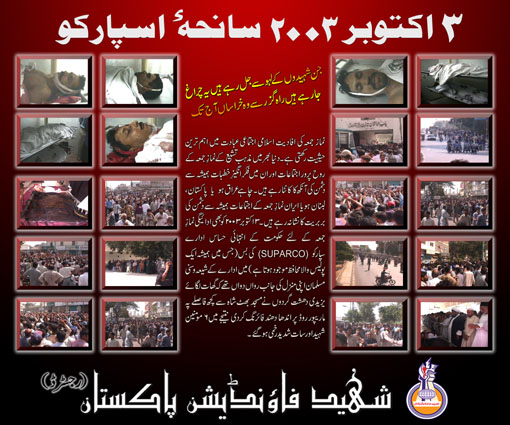 October 3: Two gunmen attacked a bus carrying Shiite worshippers in Karachi, MariPoor Road, on Friday, when they were going for offering Friday Prayers to Bhit Shah Mosque, killing at least Six Momineens Martyred and seven wounded.
Gunmen riding a motorcycle opened fire with automatic weapons.
All Martyred and injured belong to SUPARCO (Pakistan Space and Upper Atmosphere Research Commission)Company.
Martyred Names are:
Shaheed Raza Ali
Shaheed Qasim Ali
Shaheed Syed Athar Ali
Shaheed Hashim Raza
Shaheed Mohammad Rafiq
Shaheed Wasi Haider Zaidi
Name of Injured Momineen
Munnawar Zaidi
Asghar Zubair
Pervez Akhter
Aslam Abbas
Asfi Jaffri
Syed Ishrat Hussain
one more unidentified

Namaz-e-Janaza of the Martyred of Saniha Hub River hold on Saturday, the 4th Oct 2003, at Imambargah Shah-e-Kerbla(Rizvia Imam Bargah), Rizvia Society, Karachi, after Zohran Prayers.