Details: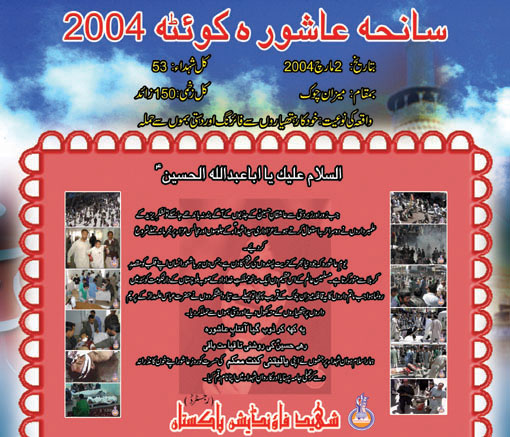 It was the day of Ashure, Tuesday, 10th of Muhram 1425 Hijri according to Islamic Calander and 2nd March 2004 A.D. More than 40 people martyred in Quetta the capital city of Baluchistan (Pakistan) by an organized terrorist attack.

According to reports the jiloos (Procession) was on its usual route, started from Alamdar road, then stayed at Mizan Choak as it moved forward to Liaqat Bazar, it targeted by a preplanned attack. Hand grenades and indiscriminate firing started on Azadaran-e-Imam Hussain (A.S). First of all a fire was heard then hand grenades and indiscriminate firing started from various places, Bano Market was one of those places from where at least three terrorists attacked.

Mourners showed a great courage and dared to capture the terrorists who were attacking from Bano Market. One of terrorists directly went to hell, when he was trying to escape from building and fell down from window over electric wires, rest of two captured by mourners. One of them also went to hell by mob and other was handed over to security forces. But a series of wholesale firing was continued from various places where securities forces were positioned including the top of Baldia Plaza, Mizan choak.

According to eye witness the number of people martyred by terrorists were 7 and rest of people got bullets by security forces, police and ATF (Anti Terrorist Forces) and the process of firing was continue till hours, and in result of such act about 45 people lost their lives including five policemen.

Mourners faced boldly against the barbaric attack, the people who were holding tabarukat (Alam Zulgina and Taboot) they bore bullets on their chests but didn't let those pious things fell down on earth.

As the jiloos passed from Liaqat Bazar to Masjid & Imam Bargah Shia Isna Ashri (Kalan) on Prince road, Yazidi forces attacked on Imam Bargah Nasir ul Aza. People believe that attackers came from a Wahabi madarsa, which is situated behind the Imam Bargah Nasir ul Aza. After these terrible events the Quetta city caught by riots; private and public properties were burnt including the Junction Market, Prince Road and three houses of Shia People. All it was organized and produced image as the mourners of procession were involved in all those violations.


Whose is involved behind Riots?
Although, the spot, where this painful event occurred was surrounded by jewelries shops but there was not noticed any looting and burning of shops and valuable things.

Analyzing a bit deeply it clears that anti Shia and evil forces, who want to make a quarrel between Shia and Sunni Muslims were behind all these evil acts. The Junction Market, which was burnt, is almost the property of Hazara Shia people, and the amazing thing is that, about 50 shops and 3 houses of Shiite Muslims were burnt in the city.

The Prince road, where properties were damaged and burned is about one kilometer away from the spot of massacre while ornaments and jewelry's shops didn't get any damage by mourners of processions in Liaqat Bazar!

Now points to be pondered are that:
If the people of jiloos were rioted, no shop certainly would have been safe on the spot of massacre.
Who burned the three houses of Shiite Muslims? In which pious and religious things were burnt and deliberately disgraced including holy Qurans, considering as Shiite Quran.
Can a Muslim do such evil actions ………….?