Details: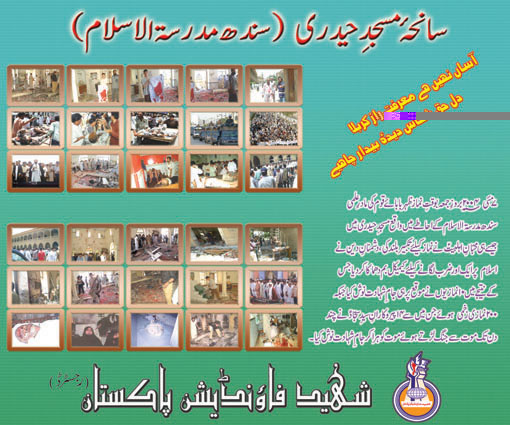 SFP Report 
Complete Story of 
Saneha-e-Masjid-e-Haidry Karachi, 7th May 2004
It was Friday, 7th May 2004 when a powerful bomb exploded during pray in a historic Shia Muslim mosque named "Hyderi Masjid". This mosque was built in 1894, located in the premises of  Sindh Madarsatul Islam,  Shahra-e-Liaqat between M.A Jinnah Road and I.I Chundrigar Road, Karachi. Bear in mind that Nimaz-e-Juma is not performed in this mosque because it is offered at close vicinity in Kharadar at Khoja Masjid. 
The Blast occurred in the middle of the mosque, besides central pillar at 1:15 P.M, when the worshippers raised hands for takbeer to begin the Nimaz.
It was a horrible blast 12 worshipers martyred on the spot while about 210 injured.  Injured were rushed to Civil Hospital then Jinnah, Aghah Khan, Liaqat National hospital.
Figure of martyrs has touched to 23, which is being increased time to time till the date when this script is being written. 
The mosque was badly damaged. Bodies of prayers collided to the top of walls and ceiling. Blood stained the floor and spatter the walls and pieces of flesh were scattered on the ground.
According to witnesses and worshipers there was not any security arrangement. Security forces were not only absent on the time of pray but they didn`t arrive on the time when event occurred, while the Police stations of Kharadar, Mithadar, SSP office / CIA (Pakistan) center are just on walking distance, hardly few hundred meters away from the spot.
This mosque was already on hit list of terrorists, a group of terrorist which was arrested some time ago revealed that  "Hydri Mosque", Sindh Madarsatul Islam was on their target list. Inspite of that there was not any security steps taken for that.
Who Came First to Rescue Worshipers
When the bomb blasted, the people who came first to rescue to worshippers were Sunni Muslim brothers, who were also performing pray in their mosque that is just beside the Shia Mosque on few meters distance in the same premises of Sindh Madarsatul Islam.
Exemplary scene of Shia-Sunni unity
On the day the people of the world watched the exemplary scene of Muslim Shia-Sunni) Unity. People of Karachi (without any difference of sect) helped the victims and evacuated one side of road for ambulances running the whole evening via civil hospital to Agha Khan and Liaqat National Hospital and they controlled the traffic system of the city.
While mobs of people reached to blood banks for donating blood to injured worshipers. Long queues of Shia and Sunni Muslims were noticed there. 
There is not any clash between Sunni and Shia Muslims, Most of them are relatives because, they marry each other. They live in same neighbor and doing job on same places. 
What people say about this tragic event:
People both Shia and Sunni think that no any Muslim could be involved in such evil act, this is just a part of conspiracy against Islamic Republic of Pakistan and Muslim World.

The Facts and Government`s / Police View 
Police showed the same non serious attitude and announced this act as suicide bombing as they already announced Quetta`s two Masss Killings of Shia Muslims on 4th July, 2004 in which 50 people martyred and the 2nd March 2004, on Yom-e-Ashore 1425, in which about 45 people  martyred. Initially it was said that bomber was in a style of Shia cleric.

Policeman was involved in bombing

While some injured worshippers told to journalists, police and Shaheed Foundation`s team that a doubtful man in a police worthy is expected to be involve, who had a brief case and reciting the holy Quran, when he was asked by some one why he doesn`t use "Khak-e-Shifa" for Sajda (prostration), he replied in a rude style, that it could be performed without that. Sadly saying that on media it was focused as suicide bombing, so it is clear that there is not any liberated media, and we, Shia community doesn`t have either any our own media or any spokesman to clear the facts.

How, when, and who blasted bomb

One people was observed escaping from mosque before few minutes of bomb blast. It was blasted at about 1:15, when people just raised their hands for takbeer to start the pray. Most of the people come in mosque in Nimaz-e-Asr, while bomb blasted before nimaz-e-Zuhr. So after analyzing deeply it is supposed that it was a remote control bomb which is blasted before expected time, while some people think that it was a time bomb and the man who brought this bomb was himself unaware about the timings of bomb. While police and government are continuously saying this bomb as suicide bombing.

Suicide Bombing: Things to be considered

What is need of suicide bombing ? Suicide bombing is a fact in Palestine, When Israel`s demolish their homes, massacre innocent peoples and shoot kids infront of their parents. So their is only one way to take revenge that is suicide bombing, because Palestinian are without having weapons and Israelis have tight security, so Palestinians blew them up. So suicide bombing only occur where their is tight security and suicide bomber`s  family is victim by opposite party. But there was not such any thing in Masjid-e-Haidry  Event of Masjid-e-Haidry is being called suicide bombing because responsible wants to hide their irresponsibility. This is a trend which is started by police to call any Shiite massacre as suicide bombing as they already declared two mass killings of Shia Muslims in Quetta (4 July 2003 and 2nd March 2004) as suicide bombing. 

Blood of Shuhada indicated the Murderer

At last the blood of Shuhada brought the result and shifted their responsibility to us. By the grace of God  A buckle having the number of the same policeman, found from the mosque. After tracing it was found that a police man named as Akbar Niazi was involved. Investigation teams brought his picture and injured worshippers identified him. In an investigation report Akbar Niazi`s involvement was announced.

Name of Some of Martyrs are:
Shaheed Khawaja Kumail Sercretary of Allama Talib Johri
Shaheed Fazal Abbas Lakhani S/O Habib Bhai
Shaheed Mirza Arif Hussain S/O Abid Hussain
Shaheed Hafiz Ali S/O Rajan Bhai
Shaheed Hasnain Zaidi
Shaheed Sabir Hussain hashmi
Shaheed Mohammad Ahmed S/O Maqbool
Shaheed Syed Altaf Hussain Naqvi
Shaheed Mohammad Nadeem (Ranipur, Khairpur)
Shaheed Ali Najaf Mardan (On May 8, in Agha Khan)
Shaheed Nihal Raza Zaidi Ibne Syed Khurshid Raza (On May 11, 2004 in Agha Khan)
Shaheed Mir Sakha Ali S/o Mir Murtaza Ali (On May 12, 2004 in Liaqat National)
Shaheed Syed Ali Rizvi S/o S.M Ilyas (On May 13, 2004 in Patel Hospital)
Shaheed Dr. Asad Abbas Naqvi (On May 13, 2004 in Agha Khan)
Shaheed Agha Ghulam Haider (On May 13, 2004 in Agha Khan)
Shaheed Abdullah Noorani S/o G.Abbas Noorani(On May 15, 2004 in Patel Hospital)
Shaheed Ahmer Manzar S/o Manzar Rizvi(On May 17, 2004 in Liaqat National)
Shaheed Afsar Abbas S/o Abbas Haider (On May 20, in Liaqat National)
Shaheed Ali Asghar  S/o Mohammad Hussain (On May 27, in Patel Hospital)
List of Injured Worshipers of Saniha Hyderi
List of Injured Worshipers of Masjid Haidri

SFP News- May 12- Updated on May 13/ May 16

List of injured worshipers of Saneha-e-Masjid Haidri, Karachi (May 7,2004), who are still admitted in various hospitals:

List of Liaqat Medical Hospital
Ahsan Hussain Naqvi S/o Shahid Hussain Naqvi
Inayat Ali S/o Ghulam Mehdi
Mir Asad Ali S/o Shujaat Ali
Mohammad Raza S/o Saleem Ali
Qamar Abbas S/o Ghulam Abbas
Mohammad Muzafar.
Mohsin Hassan
Shaikh Mazhar S/o Shaikh Inayat Hussain
Ahsan Abbas Hussaini S/o Hassan Abbas
Iqbal Hussain Rizvi
Baqir Saeed
Kazim Raza?
Syed Izhar Hussain S/o Syed Wisal Hussain (Discharged)
Iqbal Haider S/o Ghulam Raza (Discharged)
Akber Ali S/o Dinar Ali (Discharged)
Syed Asad Hussain (Discharged)
Asif Hussain (Discharged)
Jawaid Naqvi (Discharged)
Dilawar Ali (Discharged)
Molana Nisar Hussain (Discharged)
Ghulam Abbas Gilani (Discharged)
Nazir Abbas (Discharged)
Amjad Raza (Discharged)
Pyar Ali S/o Rajab Ali Nayani (Discharged)
Khadim Hussain (Discharged)
Hussain Ali Jafri (Discharged)
Ali Akbar (Discharged)
Hassan Abbas (Discharged)
Irfan Haider S/o Mohammad Jan Zaidi (Discharged)
More than 11 patients either discharged or shifted in other hospitals, not included in the above list.
List from Agha Khan Hospital
In Agha Khan Total No. Admitted = 36
Discharged = 17, Expired = 04, Transferred = 04, Remaining = 11
Mohammad Abbas S/o Zulifiqar Ali
Ahtasham Haider Abidi
Umeed Ali S/o Dhani Buksh
Khwaja Mushtaq Ali
Shaban Ali Moosani S/o Wazir Ali Moosani
Shamim Haider Naqvi S/o Shabul Hassan
Nayar Jafri (Hussain Haider Jafri) S/o S. Hassan Askari
Mohammad Ali Shah
Manzoor Zaidi
Mehboob Ali Rajani
Yasoob
Khwaja Mohammad Ali (Discharged)
Wasi Hassan (Discharged)
Ali Anwar (Discharged)
Mushtaq Ahmed (Discharged)
Maqadam Qasim Ali (Discharged)
Nisar Ali Rashid (Discharged)
Hussain Ali (Discharged)
Ali Hussain Mandviwala (Discharged)
Waiz Akbar Khan (Discharged)
Sadrudin (Discharged)
Mohammad Shafi (Discharged)
Syed Abbas Raza (Discharged)
Syed Hasnain Abbas (Discharged)
Syed Kamran Abdullah (Discharged)
Jaffer Abbas (Discharged)
Jawaid Imam (Discharged)
Nayar Abbas Jafri (Discharged)
List From Patel Hospital
S. M Iqbal Rizvi S/o Syed Ansar Hussain Rizvi
Ali Asghar S/o Mohammad Hussain
Shabar Raza
Jinnah Hospital
Raza Hussain Paitha S/o Akbar Hussain Paitha
O.M.I
M. Mustafa Zaidi
Syed Akhtar Hussain
Hassan Akbar
Zakir Hussain
Muhammad Hussain Rawjani
Haider Ali
Syed Naeem Akhtar Zaidi
Wasi Haider
Ali Muntazir
Muhammad Ali
Kamran Akhtar Naqvi
Murad Taqvi
Mehboob Mehar Ali
Imam Zainul Abideen Hospital
Murad Taqvi Discharged
If any body has further information about shuhdas & injured victims or feedback, please send at info@shaheedfoundation.org