Details:
2 Oct 2004 (Updated: 11:00AM)

Sialkot: A powerful bomb has been exploded in Friday prayers at Masjid Zanabiya, Sialkot, Eastern Pakistani city, when the Pesh Imam was addressing the Friday speech.
About 15 Worshippers got martyrdom on the Spot and 15 more martyred in different Hospitals of the city, so 28 worshippers martyred in this massacre. According to the Officials, still more then 100 are injured and among few are in very serious condition.
The Capacity of this Mosque is Close to 1000 People. As usual police is expecting this terrorism as a suicide bombing.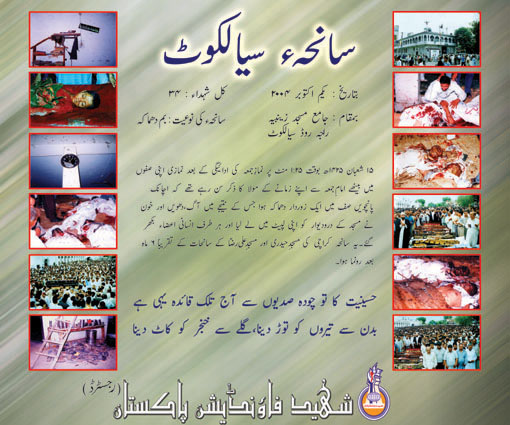 Just after the blast, momimeen found another Bomb in a briefcase, outside the Mosque which has been destroyed by the Bomb explotion Squad.
Govt officials are showing crocodile tears and given traditional statements against the series of Shia Massacre in Pakistan.
Protest Pictures, in all over the country against the innocent killings of Shiite Muslim in Sialkot.


There is not any clash between Sunni and Shia Muslims in Pakistan. There are only few extremist groups, who mostly targets Shia Muslims. This is one sided massacre of Shia Muslims. Same terrorist groups also targets some time Christians, Sunni Muslims and and foreigners who works for the welfare of Pakistan. French Engineers who were working on the project of submarine for Pakistan Navy, also targeted by the same militant group. They don't want an stable Pakistan, they want to see the people of Pakistan as a army of widows, orphans and deprived Nation. Shia and Sunni Muslims of the beloved country are matured, they don't come under any conspiracy so they don't fight against each other.