Details: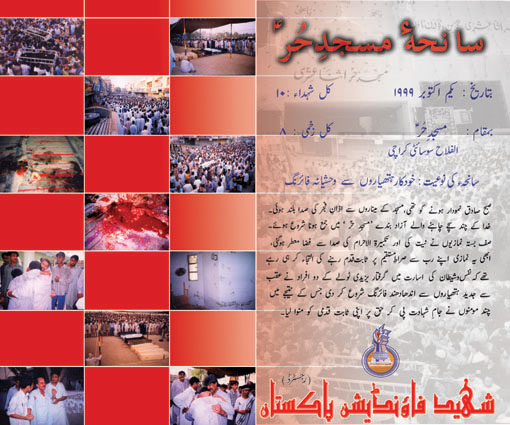 Massacre at Masjid e Hurr Alfalah:
Just before the dawn of Friday, 1st October 1999, another history of bloody sectarian terrorism was made when nine momineen were martyred during Fajr salat in Masjid o Imambargha Hurr.

Sun was about to rise of 1st October 1999. Time was 5:30 AM. Prayer leader of Masjid e Hurr Agha Ghulam Hussain Jafri stands up to lead prayers. Tassawar Hussain Shah started Aqamaat. There were 16 namazis including prayer leader and all stands up to bow their heads in front of All Mighty, All Merciful Allah. Majority of them were regular namazis which includes 18 years old Amjad Hussain to 55 years old Nazeer Abbas. After Aqamaat prayer leader just called Takbeerat ul Aqhraam that instaneously hell was broken on these namazis. From there behind somebody started indiscriminately firing. They were two attackers, equipped with AK-47 assault riffles fired straight to the standing namazis from not more than a distance of 10 feet. They changed their positions as well as magazines two times and continued their firing spree for more than three minutes. After blood bathing namazis, they moved back, and they saw another namazi coming in to the masque so they killed him also. The namazi who entered and gave his life at the gate of mosque was 21 years old martyr Syed Safdar Abbas.

When the attackers were inside firing indiscriminately, those standing in rows naturally got panicked so some fell down. Some tried to hide behind pillars, and some saved their lives moving haphazardly. 35 years old Jamshed Abbas, who was standing right behind prayer leader Agha Ghulam Hussain, was hit several times on his back. He fell straight on the prayer leader. In the meantime, a bullet also struck the prayer leader Agha Ghulam Hussainís shoulder, but as Jamshed Abbas fell down on him, he was saved from getting hit by any further bullets. Besides the prayer leader.

Miraculously six worshippers saved by the grace of God, but they were fatally injured. In this terrorist attack 10 momineen embraced Martyrdom. There names are; 50 years old Martyr Muhammed Nawaz, 35 years old Martyr Jamshed Abbas, 20 years old Martyr Imtiaz Baloch, 18 years old Martyr Amjad Hussain, 55 years old Martyr Nazeer Hussain, 45 years old Martyr Syed Zulfiqar Anwar Naqvi, 53 years old Martyr Syed Hasnain Naqvi and his 21 years old son Martyr Martyr Syed Safdar Abbas, 55 years old Martyr Nazeer Ahmed and his brother Martyr Basheer Ahmed.

As a matter of fact there is no law in this country and all promises and claims regarding protection of life and property are nothing but slogans. This incident occurred in the area adjacent to Shahrah e Faisal. Where police commandos are dispatched after every 20 steps to protect the motorcade of any VIP but not to protect ordinary citizens at the mosque. .

How many homes were destroyed in this incident and the height of cruelty of Govt. is that it neglected the episode as just another incident!