Details: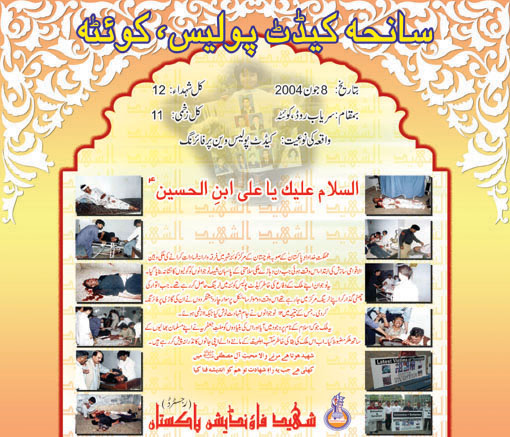 SFP Report
On Sunday, June 8, 2003, 12 Shia police trainees belonged to Hazara community were martyred by two cowards on a motorcycle, who opened fire at evening at Saryab Road, Quetta.
Cadets were getting Training through Central City Police Training Center. They spent a Holiday and going back to the Training School.
The Names of Cadets who got martyrdom :

Shaheed Ghulam Abbas
Shaheed Abbas Ali
Shaheed Abdul Hussain
Shaheed Abid Ali
Shaheed Baqir Hussain
Shaheed Ghulam Hussain Al-Hussaini
Shaheed Mohammad Jawad
Shaheed Mohammad Ali
Shaheed Mohammad Nabi
Shaheed Pervez Ali
Shaheed Sajjad Ali
Shaheed Zakir Hussain
Once again the story of Karbala was re-told when a few honorabe men, belonging to the Hussaini clan gave their blood to save the religion. A religion, that is the most unique and the sole saviour of the mankind. But this incident is a little different from the other sacrifices and it won't be wrong if it is seen multi dimensionally. On one hand these sacred men who are now receiving their sustenance from Allah s.w.t belonged to the muslim elite, the school of Ahlul Bait (a.s), which affirmed the heinous act to be a typical Yazeedi act. The built-in hypocrisy that is being inherited from Shajra a Khabeesa (The filthy tree) against the Shajra e Taiyeba (The Sacred Tree) clearly portrays the universal concept of Haq and Baatil. When they cannot justify themselves through logical dialogues, the only solution they find, is in the language of oppression. Secondly, these men were different from the other youth, as they were being trained to serve the people of Pakistan. This side of their personality portrays they had a patriotic heart pumping the blood in their body. The Yazeedis declared how anti national sentiments they carry in their diseased minds. They possess the same thinking as of those who opposed the creation of Pakistan and now they want this beloved country to split into various fragments. They never carry the spirit of Islam in their hearts as only a heart free from bias and prejudice can hold this divine spirit. Thirdly, the Ahlul bait (a.s) school have always been on at top of the list in safe guarding Islam and Muslim unity with every legitimate means. This part of their personalities, provoke every Muslim living on this earth to stand up and defend their sacred purpose. Once again, the Yazidis certified the men of Quetta, being qualified as true Hussainis, whose blood would be injected into many Zainabis to come. Beware O Killers! and remeber, the pure blood of these men and others like them, on the same Saryab would wipe the Yazeedi existance in the same manner the Zainabi revolution wiped off the illegitimate despotism.
Recite a Sora-e-Fatiha for the Shuda-e-Saryab Road, Quetta