Details:
Two powerful blasts rocked Alamdar road area in Quetta, it has been learnt. Many momineen have embraced maryrdom among others, dozens others are reported to be injured. The injured have been shifted to Civil Hospital Quetta, where emergency has been declared.


According to details received shortly, the blast occurred in a snooker club adjacent to pearl chowk. Pearl chowk lies between two Imambargahs Nichari Imabargah and Qandhari Imambargah on Alamdaar road. The area houses concentrated momineen population nearly cent per cent on either side of the road named after Alamdar-e-Karbala (Hazrat Abbas). The snooker club is in the basement of a building near pearl chowk.

A relatively low intensity blast first occurred inside the building as some area people were gathered here for retiring. As rescue work was on with rescue workers and law enforcement personnel besides area momineen packed on the scene of the blast, a powerful blast occurred on the road just outside the building. Ninty Five (95) people are said to have embraced shahadat in this tragedy and over 190 are said to be injured, majority of them are believed to be momineen.






The names of some of martyrs have been ascertained as:
1-    Mohammad Ali Khan s/o Mirza Ghulam Nabi
2- Haji Ali Ahmed  S/o  Mohammad Sarwar
3- Ali Nawaz S/o Ali Akbar
4- Tyeb Ali S/o Haji Mohammad Tahir
5- Basharat Ali S/o Ghulam Nabi
6- Sadaqat Ali S/o Ghulam Nabi
7- Nasir Ali S/o Najaf Ali
8- Khyadam Ali S/o Najaf Ali
9- Imdad Ali S/o Najaf Ali
10- Zahid Ali S/o Habib allah
11- Jamshad S/o Bashir Ahmed
12- Asad Ali S/o Haji Aziz Ali |
13- Mujtaba S/o Mohammad Aziz
14- Haji Pervaiz S/o Haji Thair Ali
15- Noor Ahmed S/o Fayyaz Mohamma
16- Mirza Mohammad Iqbal S/o Mirza Ghanzfer Ali 
17- Mohammad Arif S/o Ali Hassan
18- Abrar Ali S/o Ghulam Hassan
19- Haji Mazhar Ali S/o Mukhtar Ali 
20- Mohammad Idris S/o Adbul Hadi
21- Murtaza Baig S/o Mustafa Baig
22- Jamshad S/o Hazrat
23- Syed Noor Agha S/o Syed Asghar Shah
24- Syed  Dawar Haider S/o Syed Shahid Abbas
25- Syed Sajjad Akbar S/o Syed Ali akbar
26- Syed Sajjad  Hussain S/o Syed Abbas Ali 
27- Irfan Ali S/o Khar Mohammad
28- Mohammad  Hassan S/o Mohammad  Qasim
29- Jafer Ali S/o Mohammad  Afzal
30- Mujahd Hussain (DSP)
31- Zafar Ahmed (Police)
32- Kamran Ali S/o Haji Jaan Ali
33- Shabir Ahmed S/o Naheed Ahmed
34- Abdullah S/o Bostan Ali
35- Qurban Ali S/o Didder Ali
36- Syed Ahmed S/o Syed Mosa jan
37- Ali Raza S/o Mohammad Sharif
38- Ramzan Ali S/o Mohammad Ibraim
39- Mohammad Ali S/o Ahmed Ali 
40- Nunwar Hussain S/o Ali Maddad
41- Syed Mzafar S/o Syed Essa
42- Syed Messam S/o Syed Zakir Shah
43- Wajid Hussain S/o Ghulab Hussain
44- Zohair Abbas S/o Bostan Ali
45- Mohammad Mehdi S/o Hussain Buksh
46- Mohammad Murtaza S/o Ghulam Rasool
47- Abbas Ali S/o Mohammad Ali
48- Liquat Ali S/o Hussain Ali
49- Nazir Hussain S/o Mohammad Nabi
50- Karbali Ashraf S/o Karbali Mosa
51- Mohammad Ali S/o Mohammad Hassan
52- Irfan Ali S/o Ishaq Ali
53- Mohammad Hasan S/o Mohammad  Mosa
54- Shahid Abbas S/o Khuda Dad
55- Mirza Hussain S/o Mohammad  Ishaq
56- Shah Hussain S/o Rehan Shah
57- Zeshan Haider S/o Mohammad  Raza
58- Habib Ullah S/o Mirza Khadim Hussain
59- Ashan Ali S/o Ghulam Haider
60- Waqar Hussain S/o Ghulam Hussain
61- Abdul Hameed S/o Haji Abdul Qauom 
62- Nisar Ahmed S/o Haji Mohammad Hussain
63- Bilal S/o Mohammad Mosa
64- Ghulam Husssain S/o Abdul Ahmed
65- Ishaq Ali S/o Abdul Ali
66- Mohammad Arif S/o Mohammad Jawad
67- Iftikhar Ali S/o Ghulam Hussain
68- Imran Sheikh (Samaa T.V)
69- Saif Ull Rehman (Samaa T.V)
70- Sibteen Ali S/o Nabir Ali
71- Fareed ullah S/o Haji Naseem
72- Owis Ahmed S/o Lal Mohammad
73- Ismail  (plice)
74- Naseem (Plice)
75- Mirza Hussain S/o Mohammad Ishaq (police)
76- Nazir Hussain (Police)
77- Arif (Police)
78- Gul Jan (Edhi Rzacar)
79- Abdul Sabor (Edhi Rzacar)
80- Mohammad Arif (Edhi Rzacar)
81- Mohammad Zarif (Edhi Rzacar)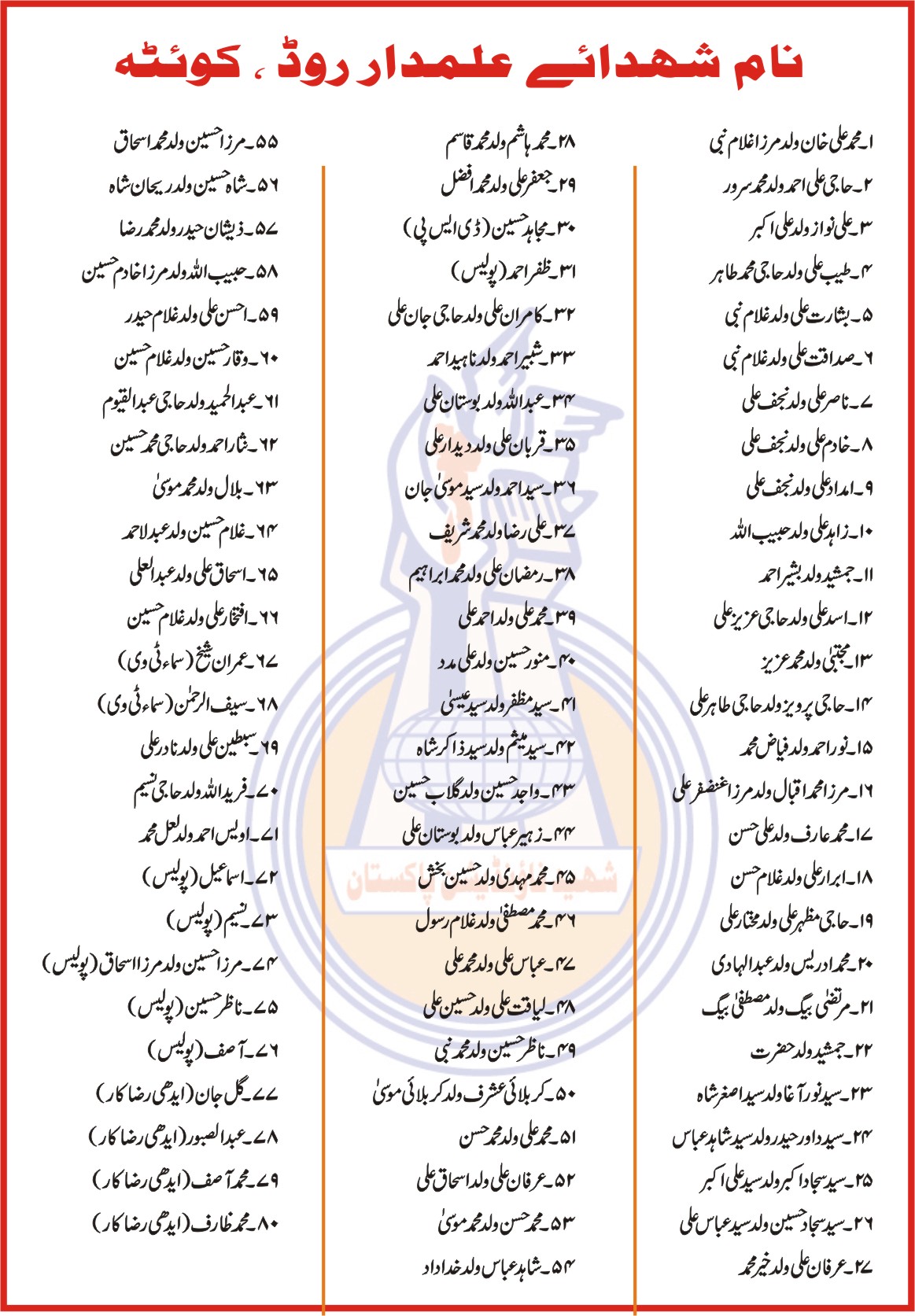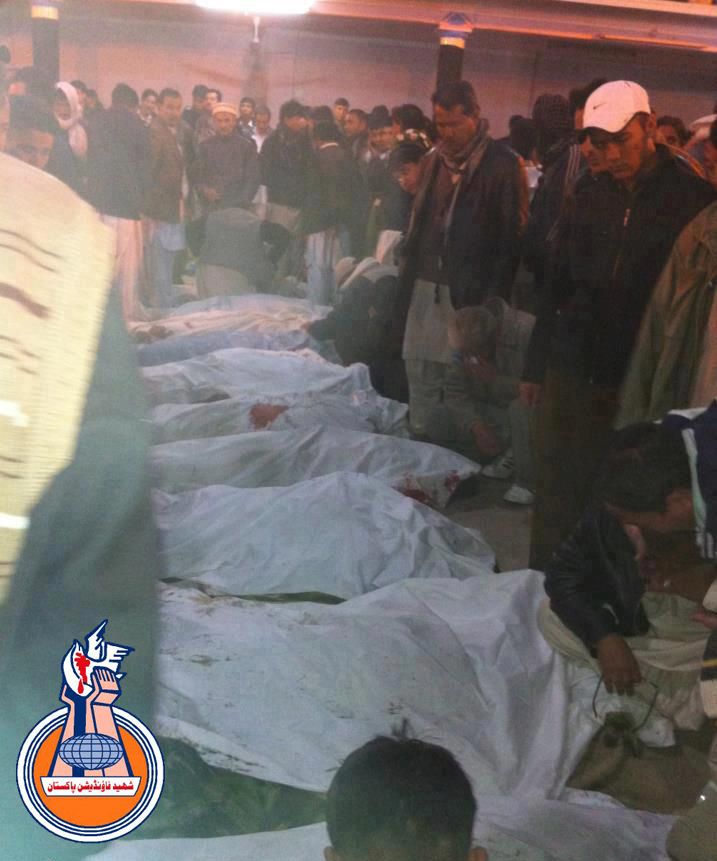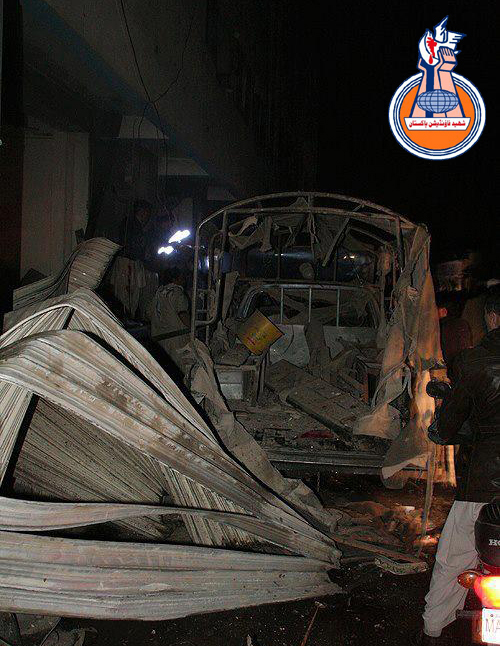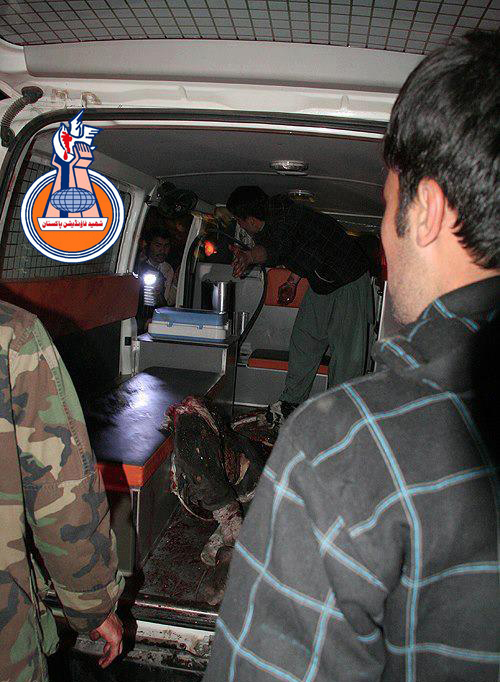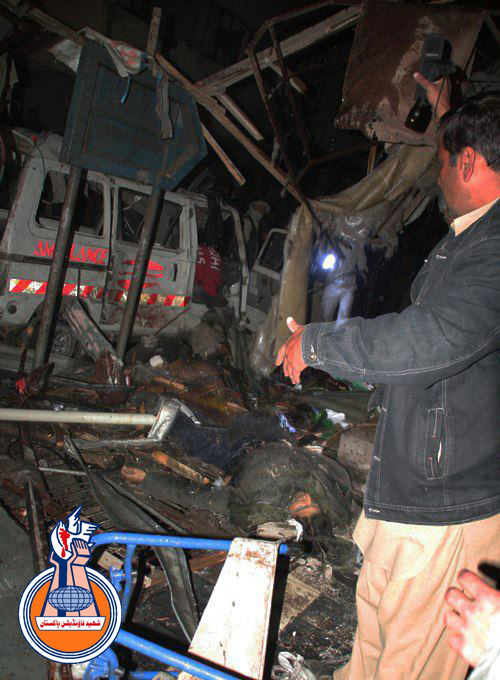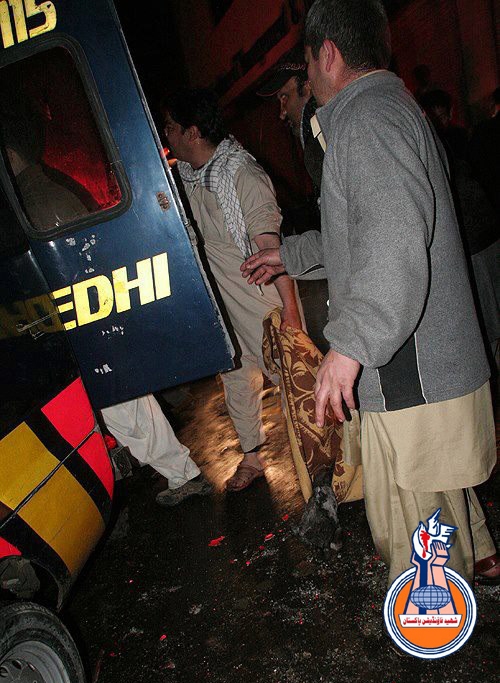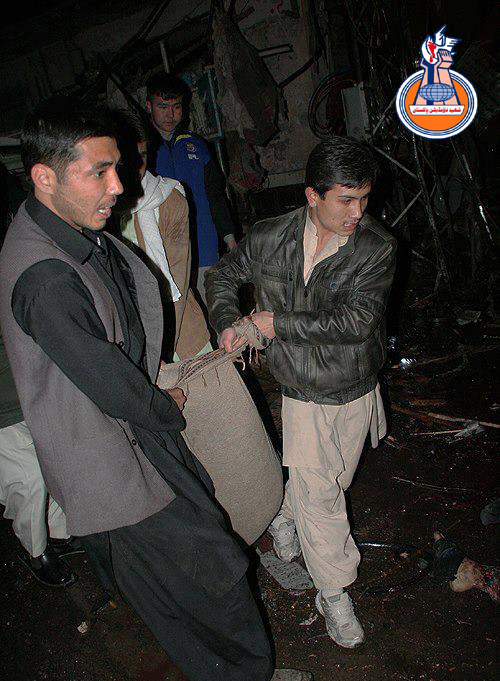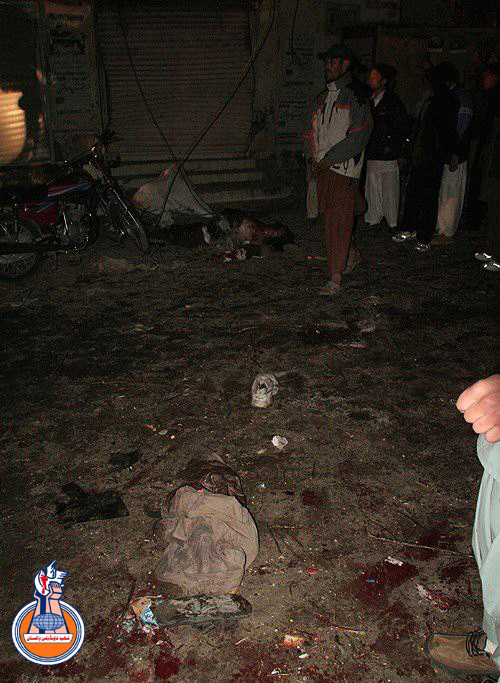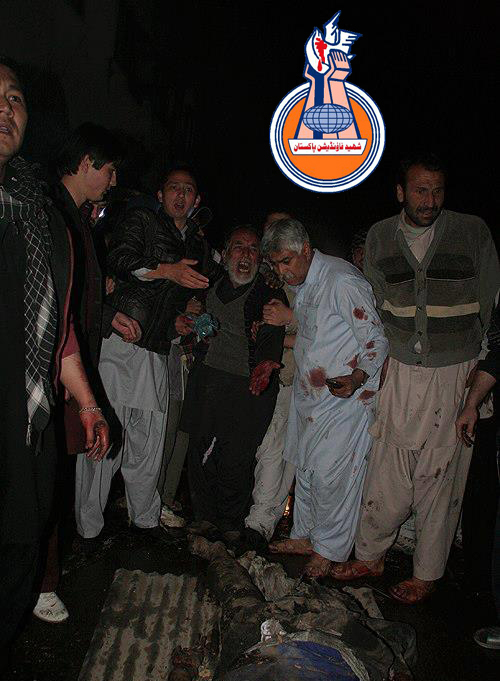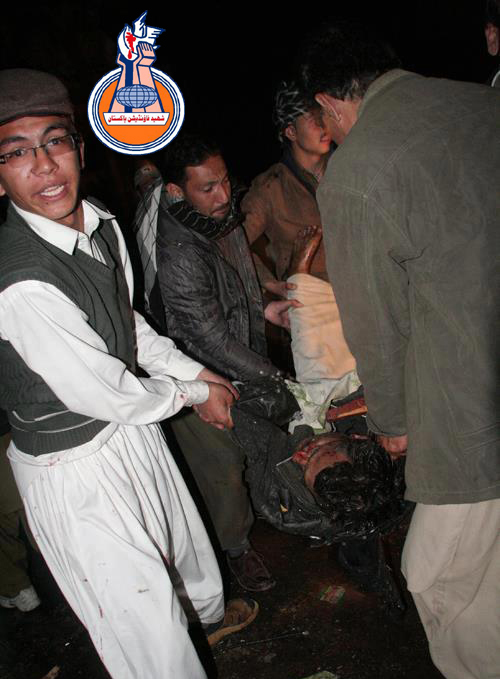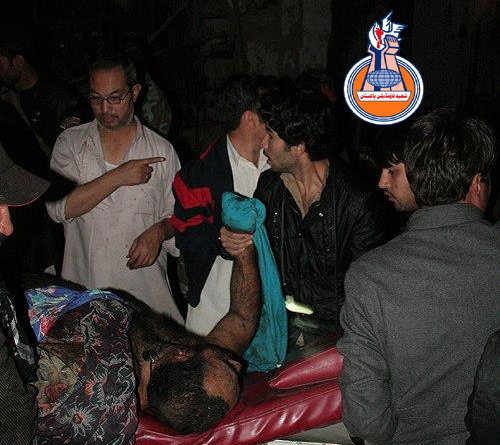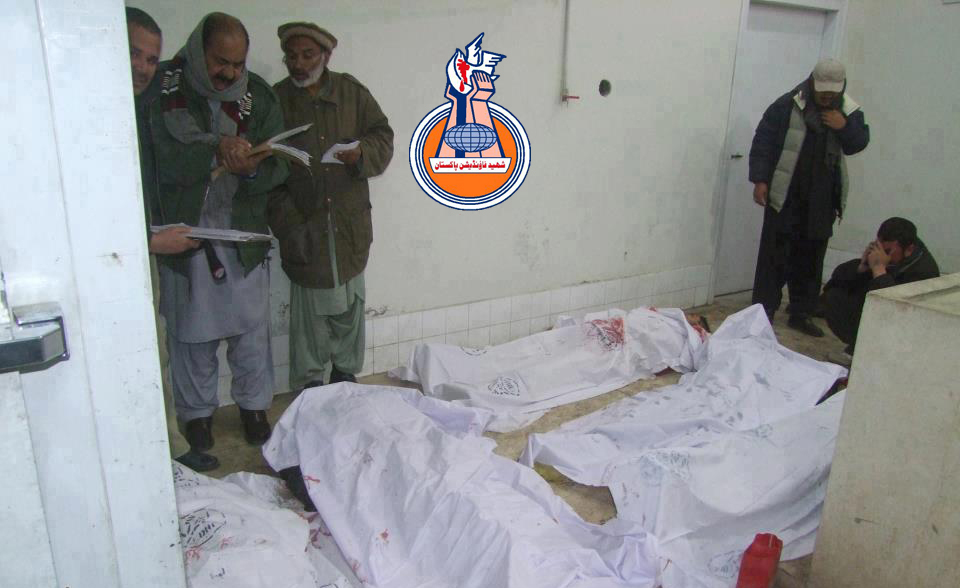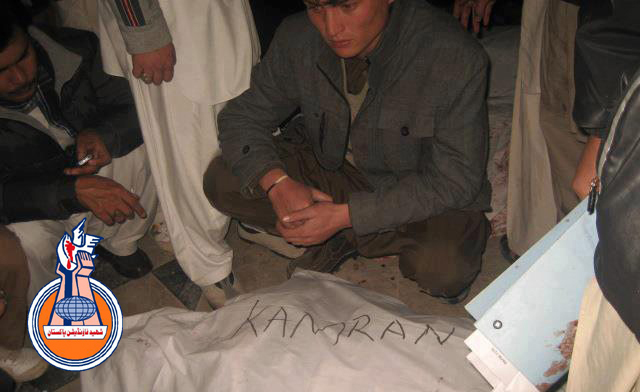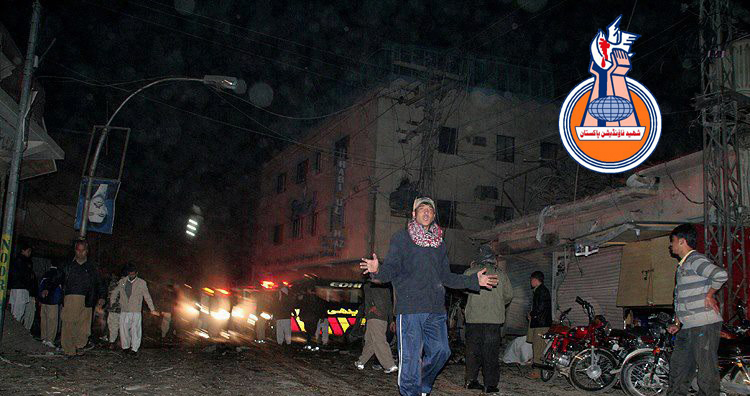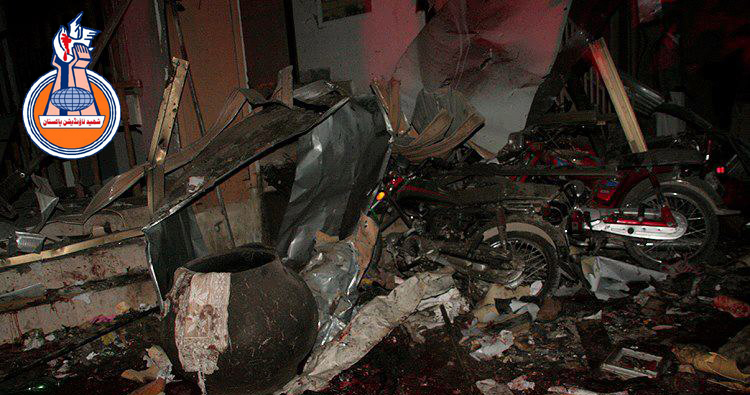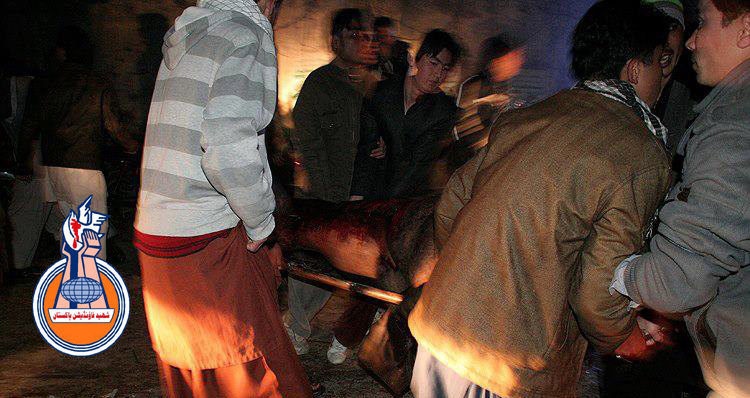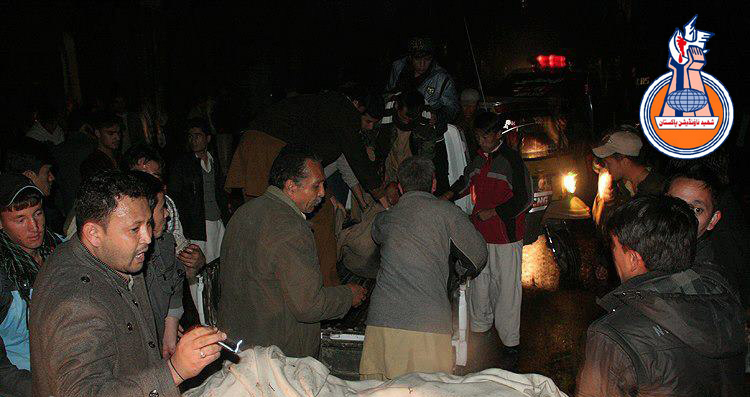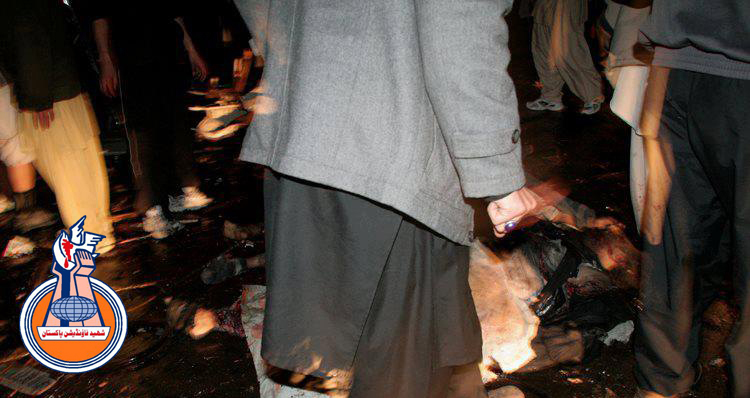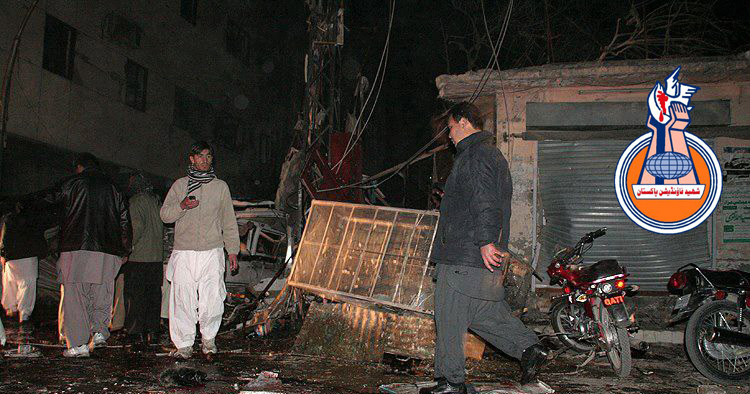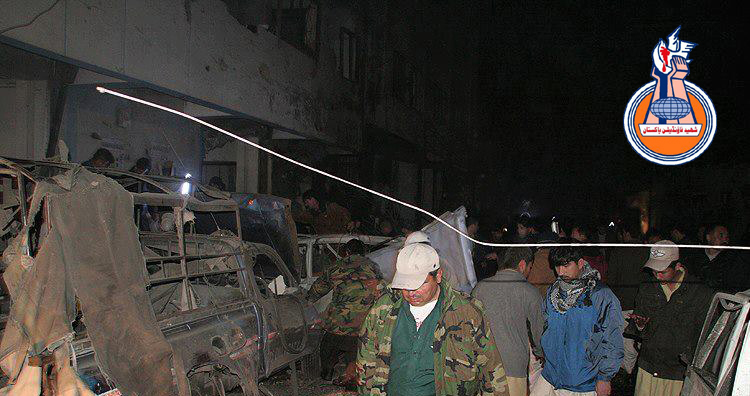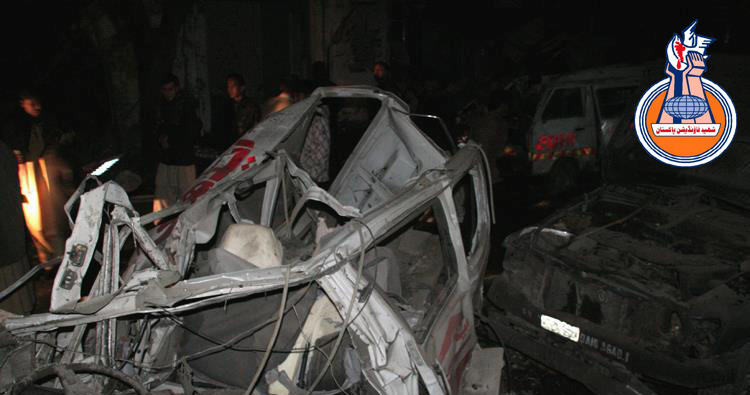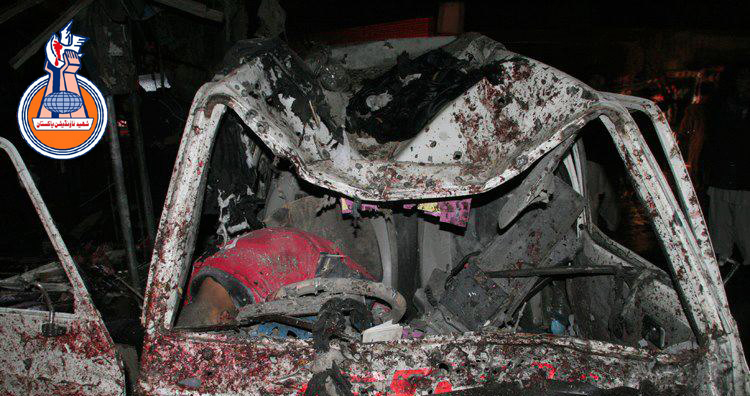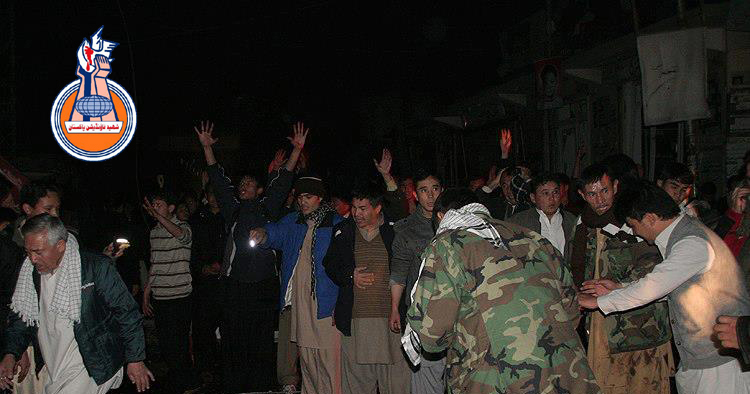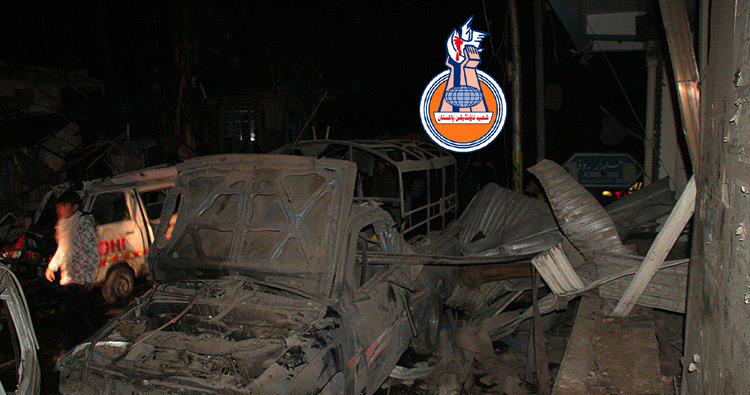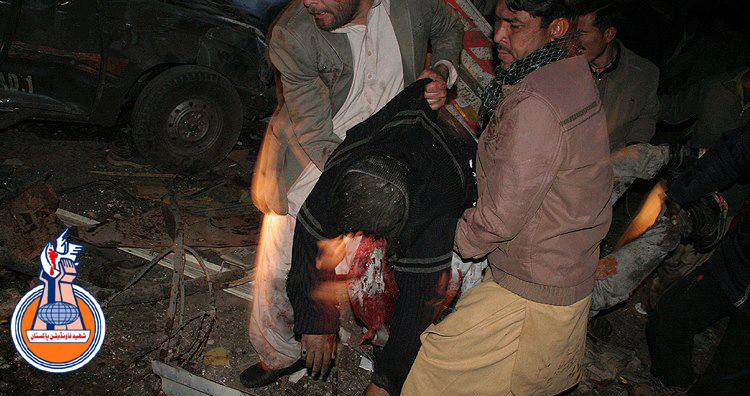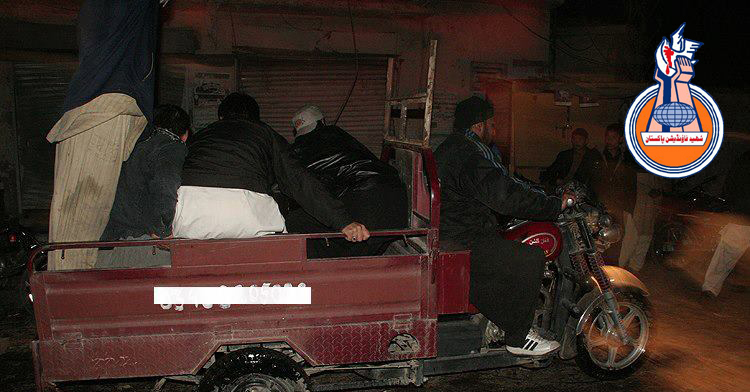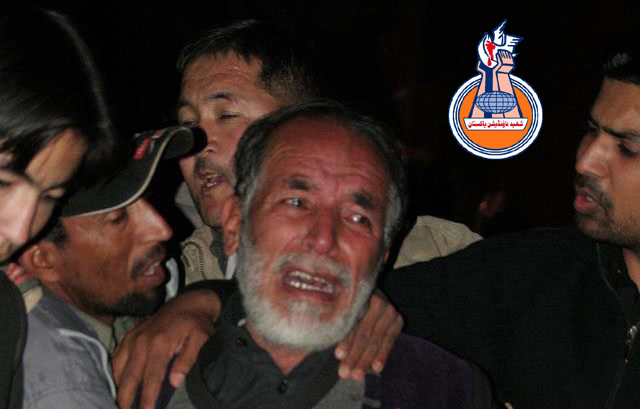 we have is for Ahlul Bayt (AS) . It is all worth sacrificing on them a million times over and over again without hesitation.

Hats off to thousands of momineen who are staging a sit-in braving intense freezing cold along with coffins of 88 martyrs against the attrocities being perpetrated against Millat-e-Jaffaria Pakistan at Alamdar Road Quetta . Among them are women,children and elderlies in large numbers.

Sit-in Picture Quetta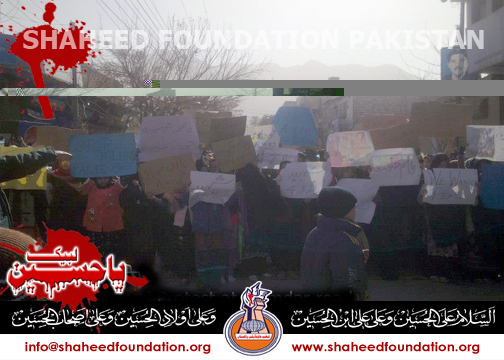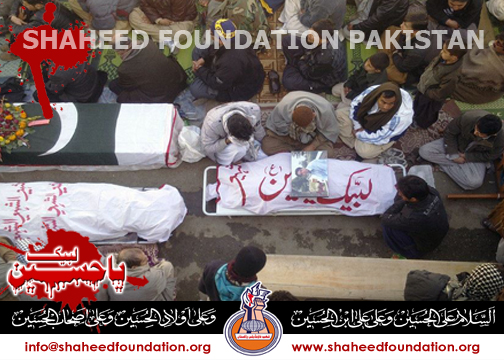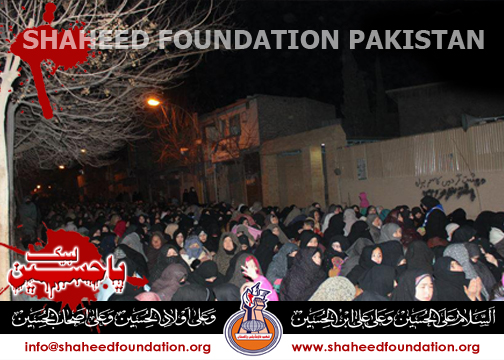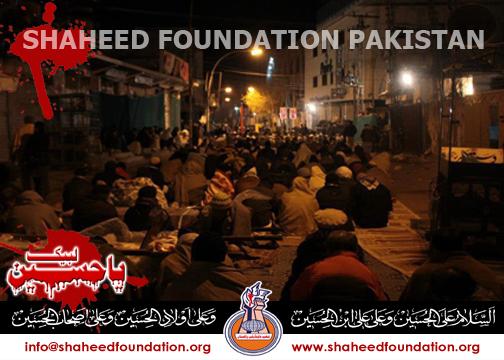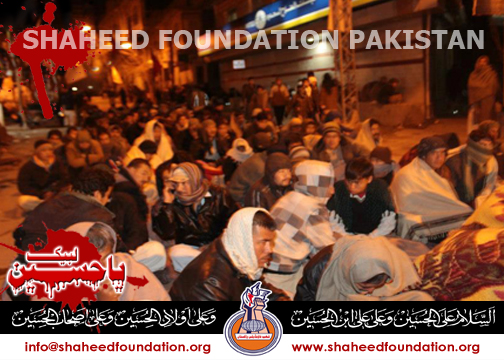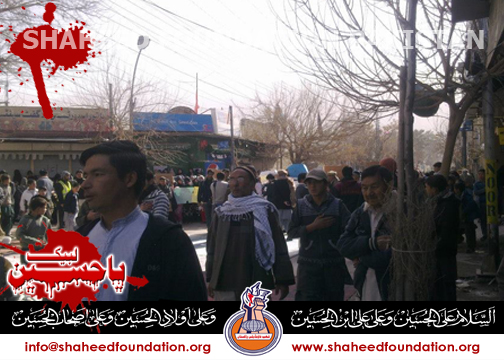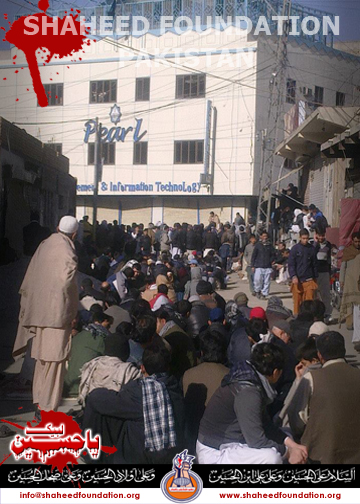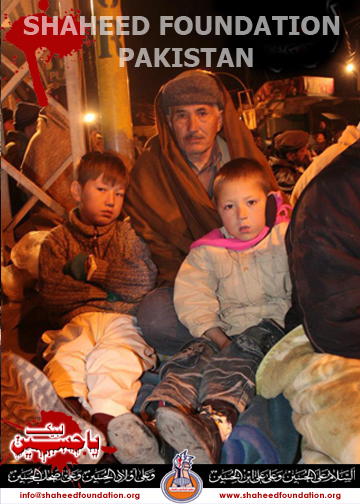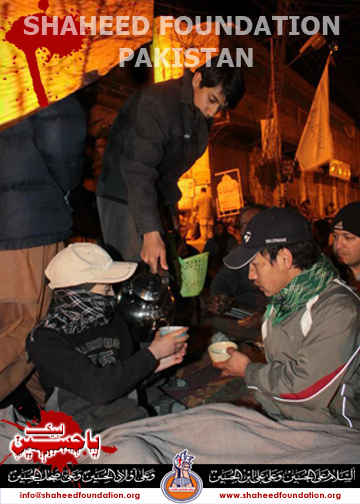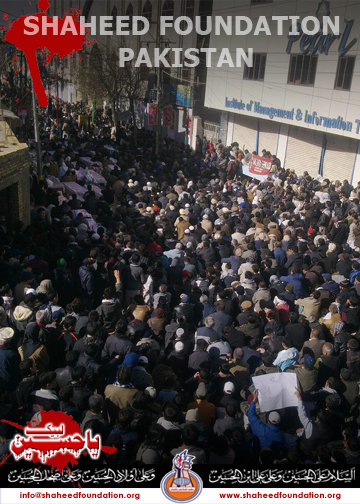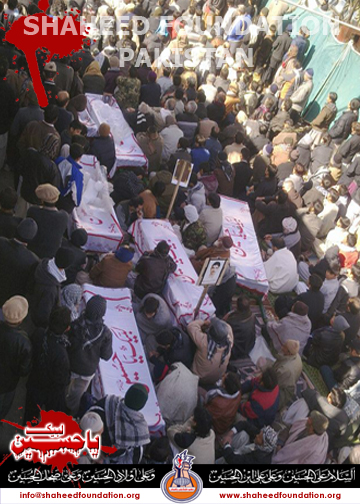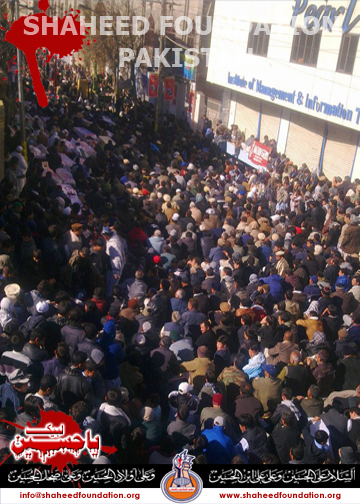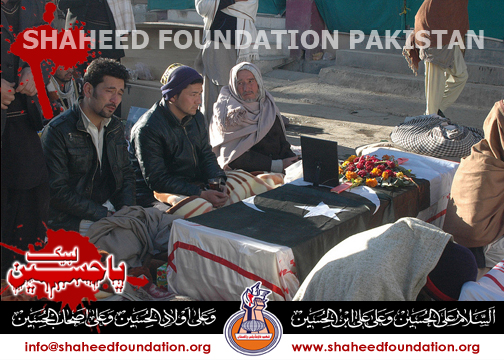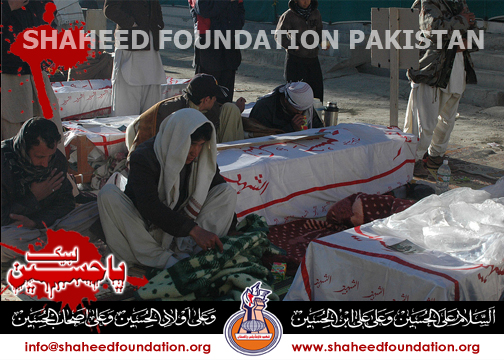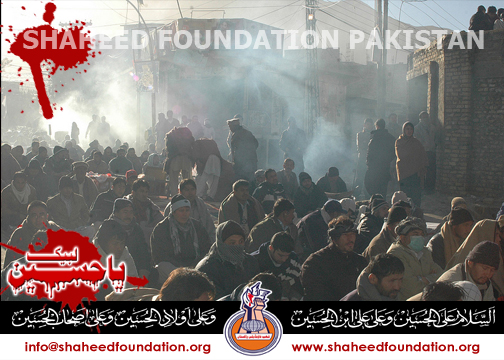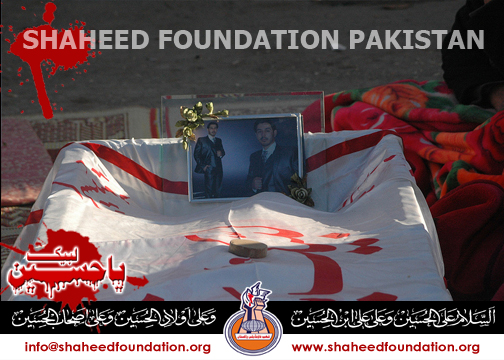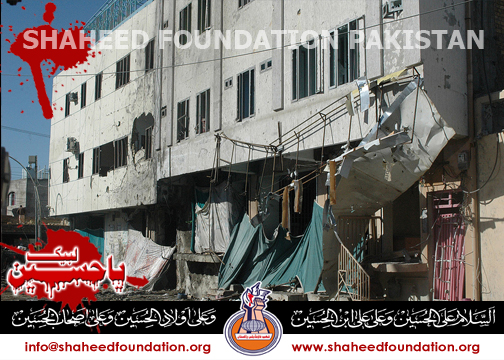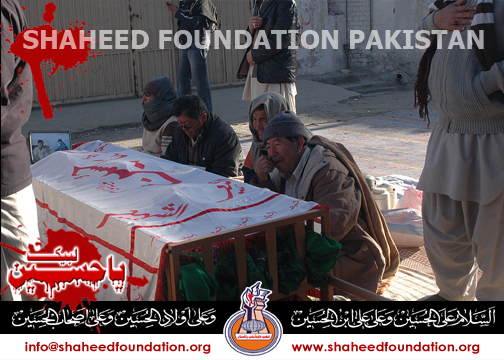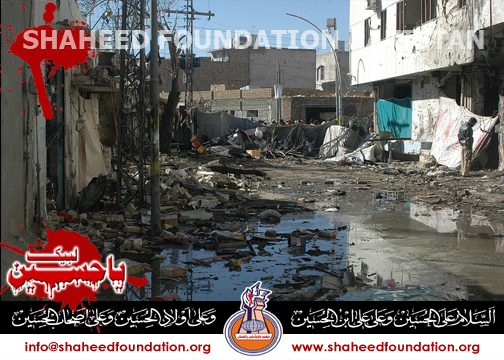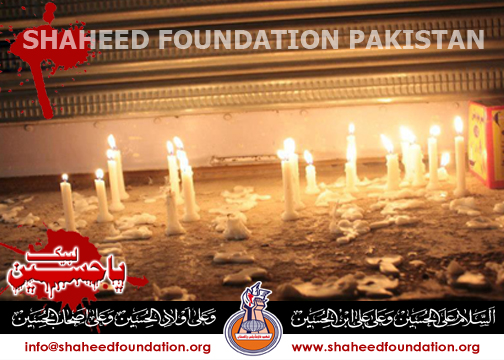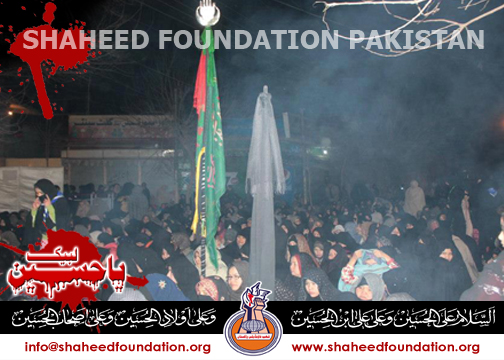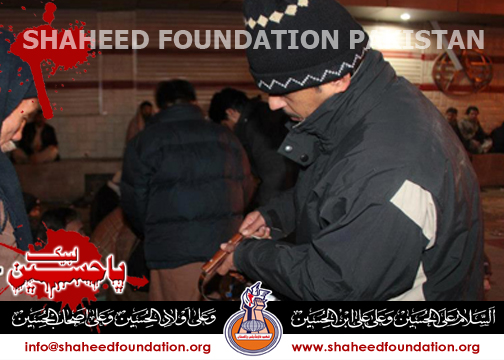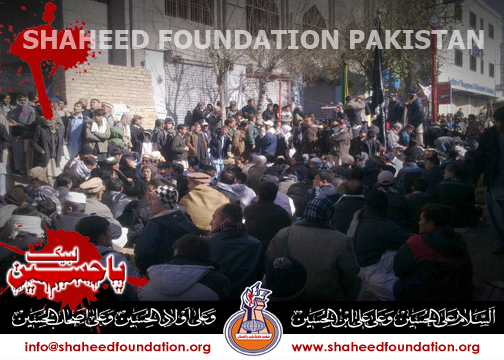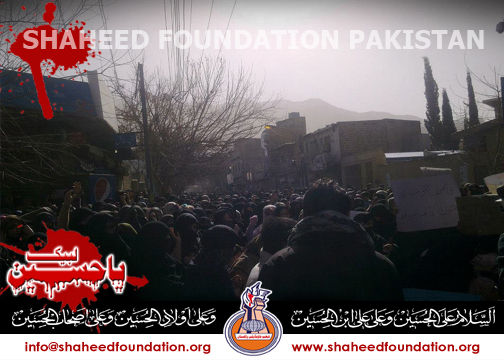 Karachi Sit-In Picture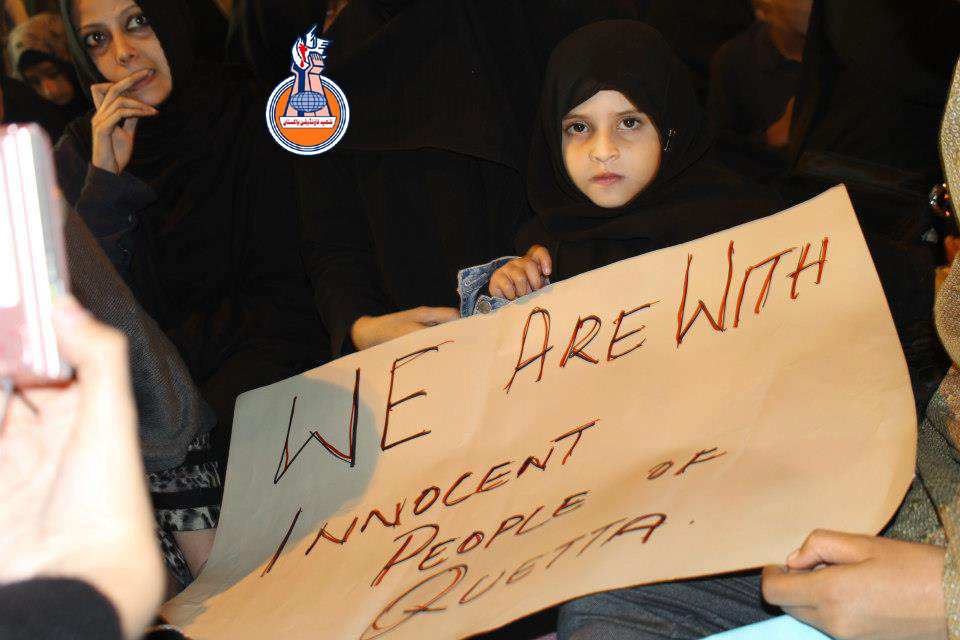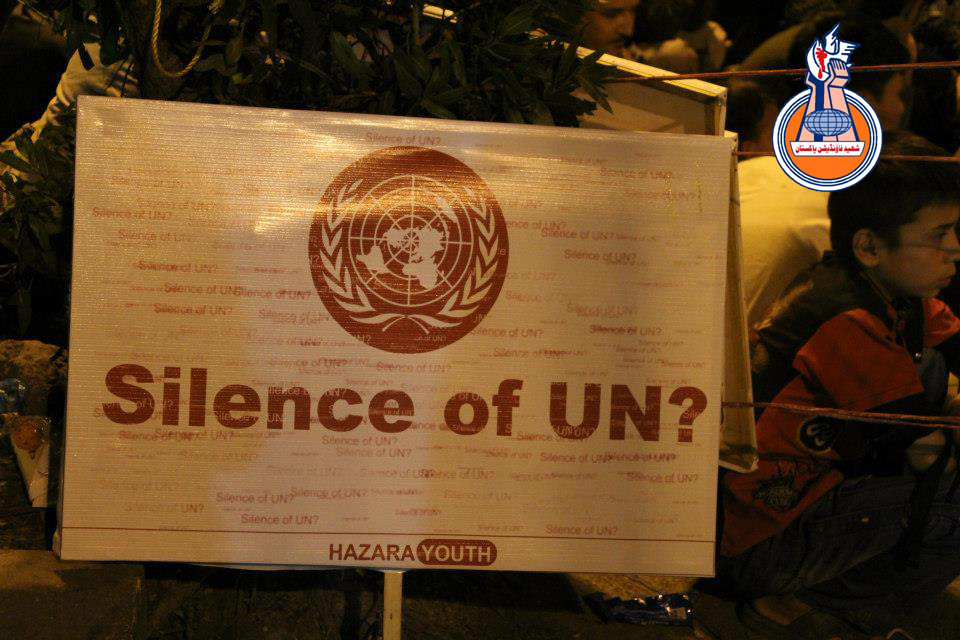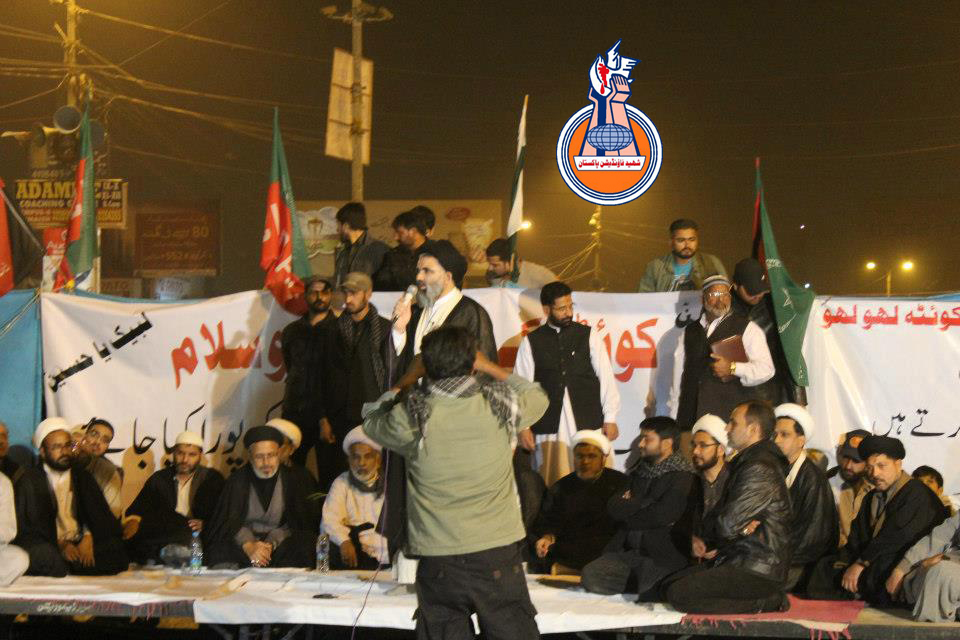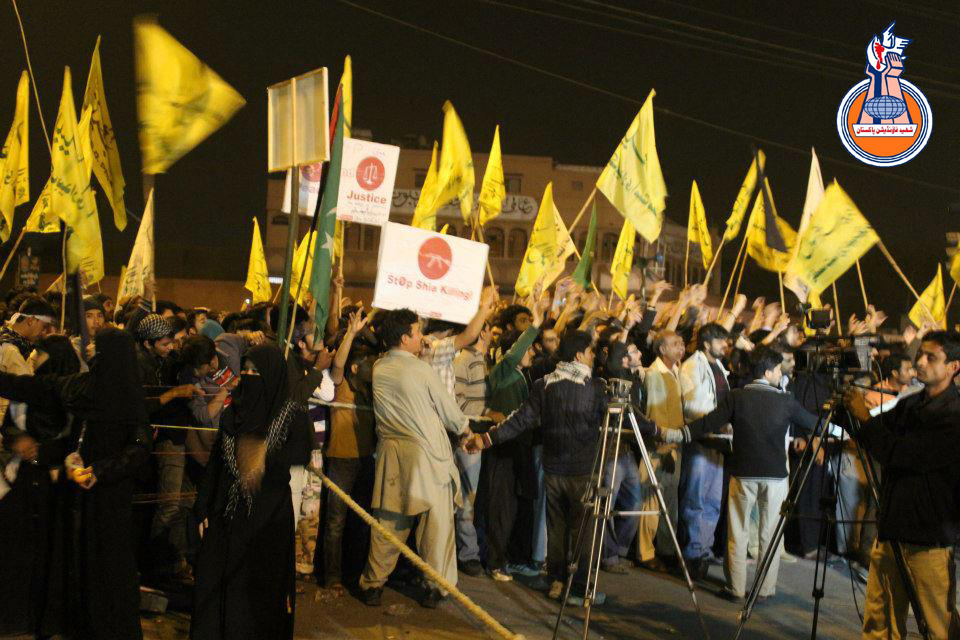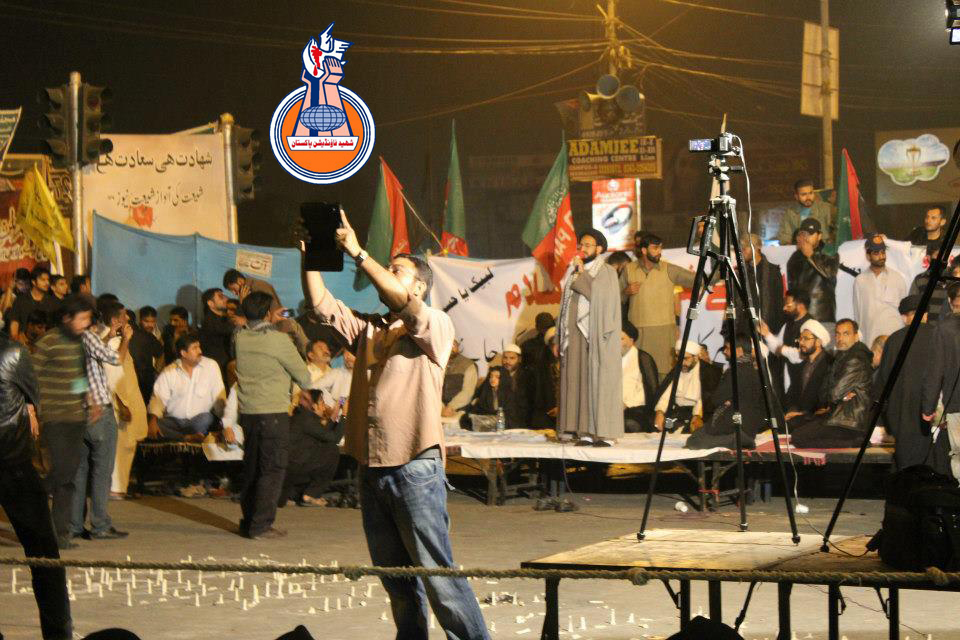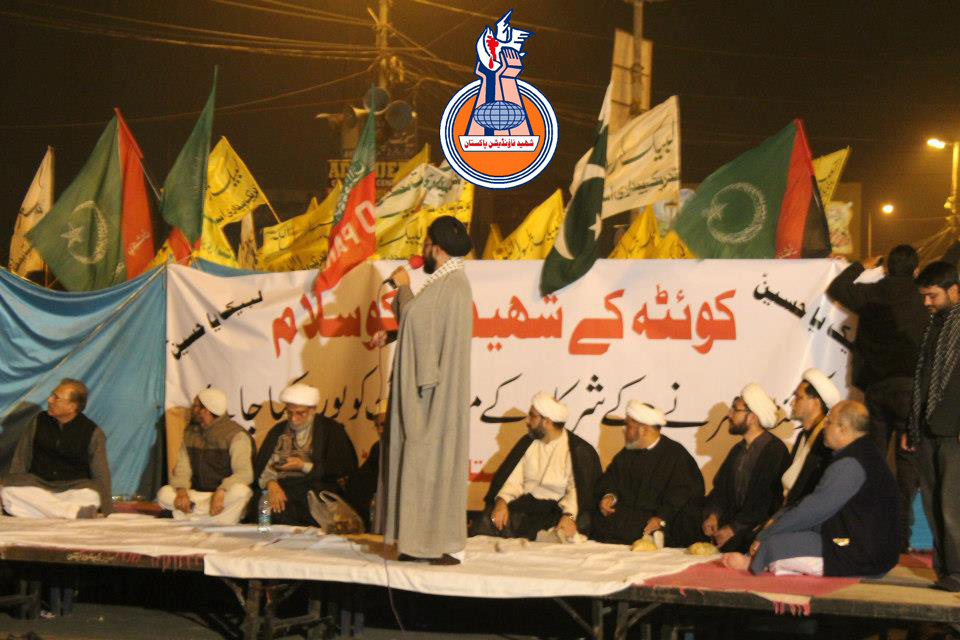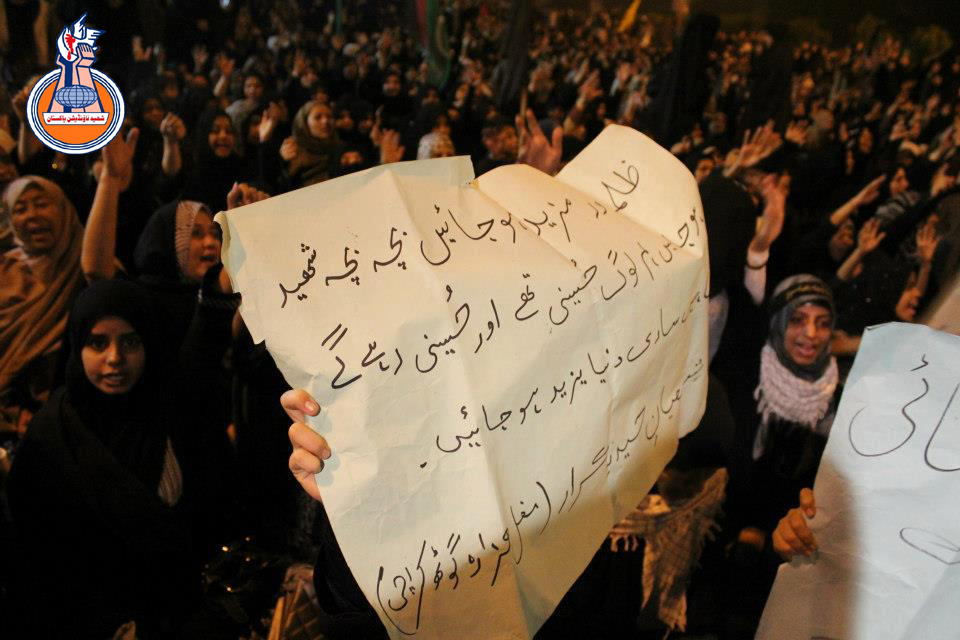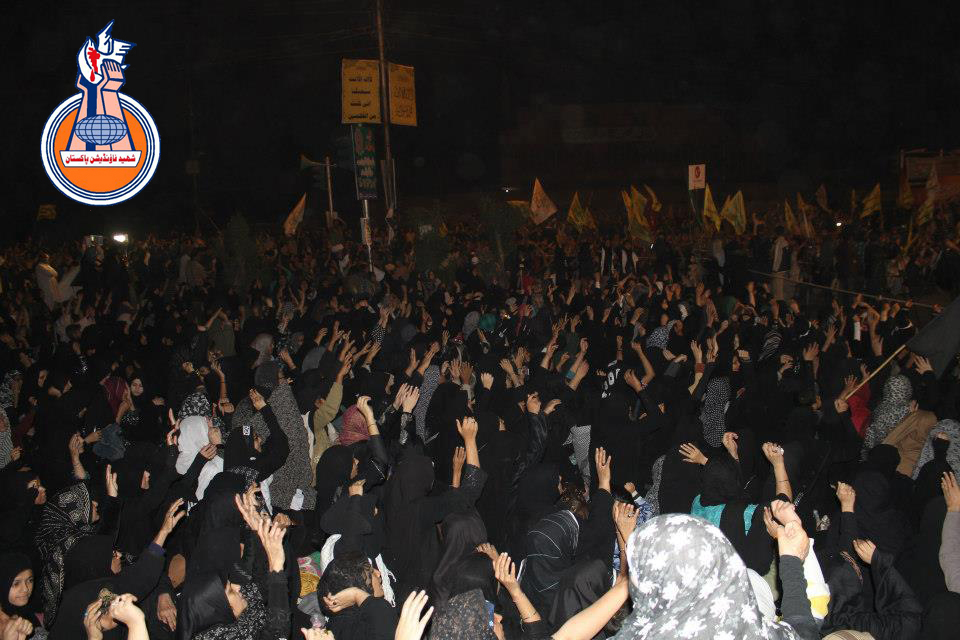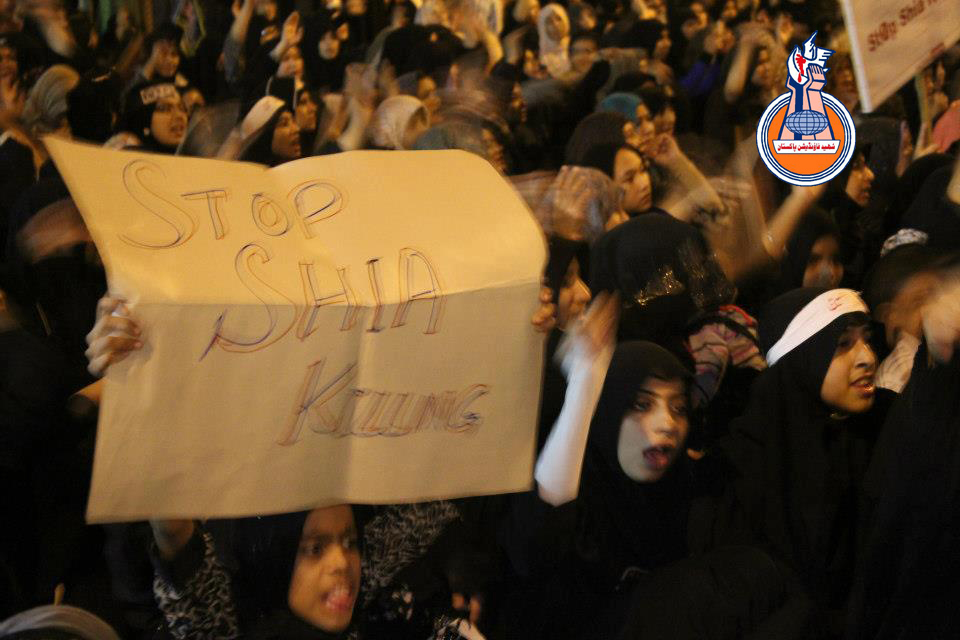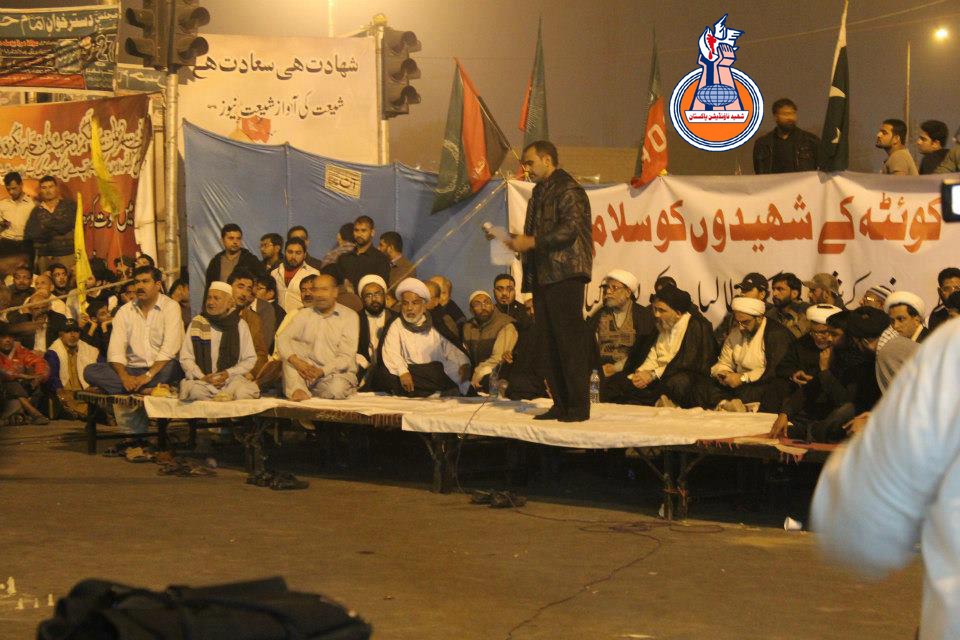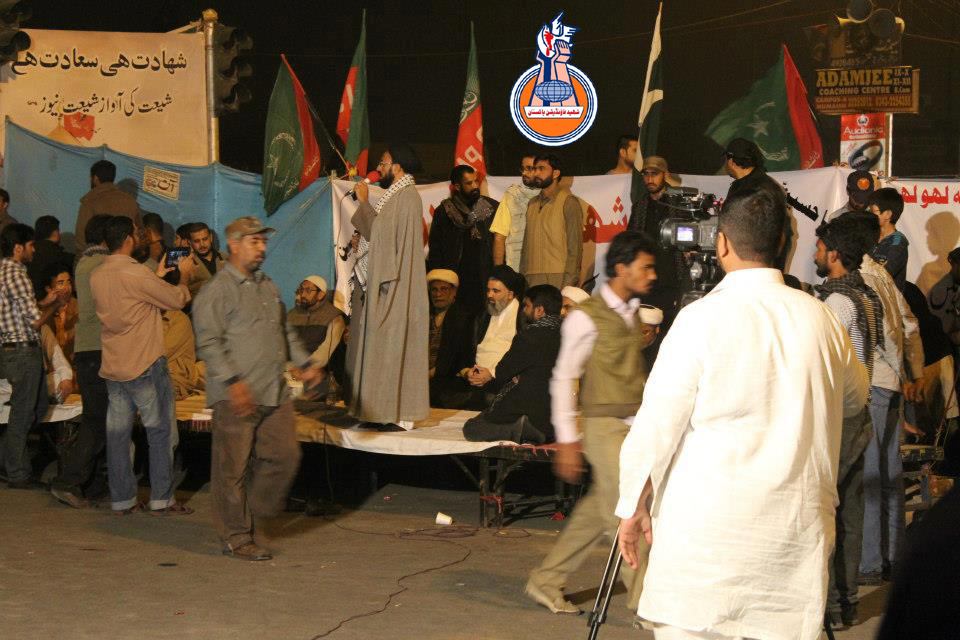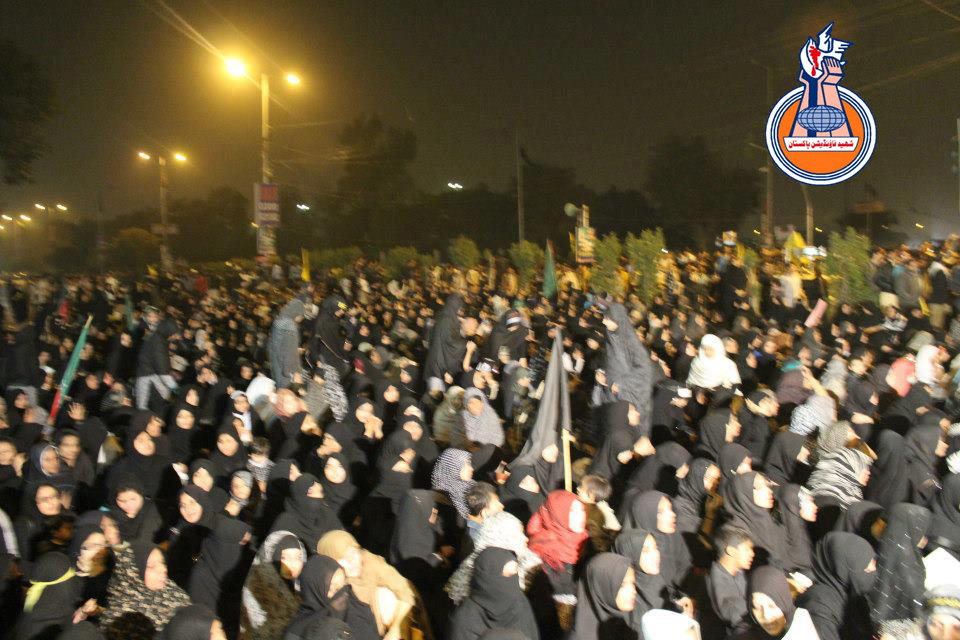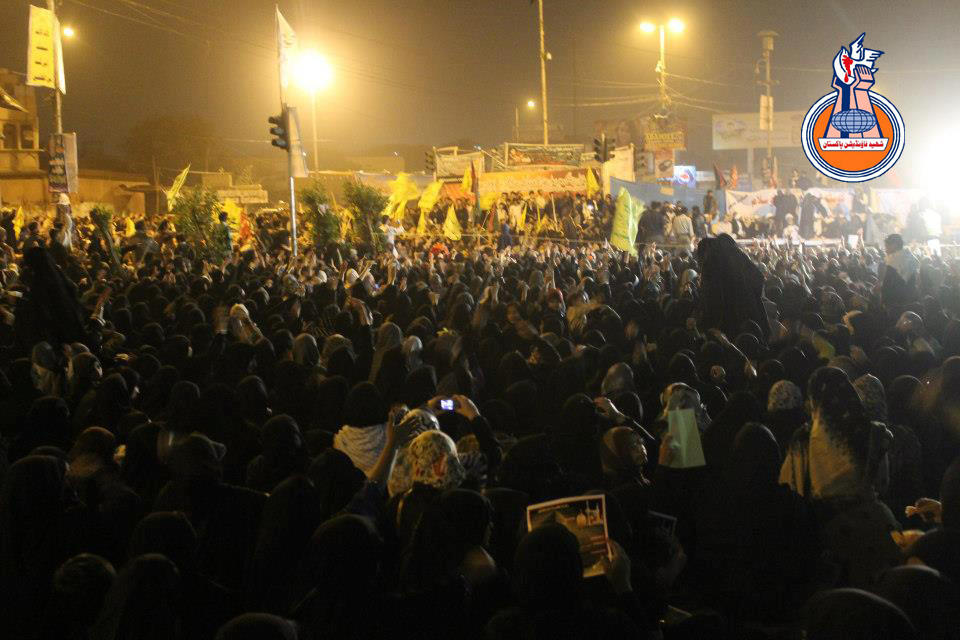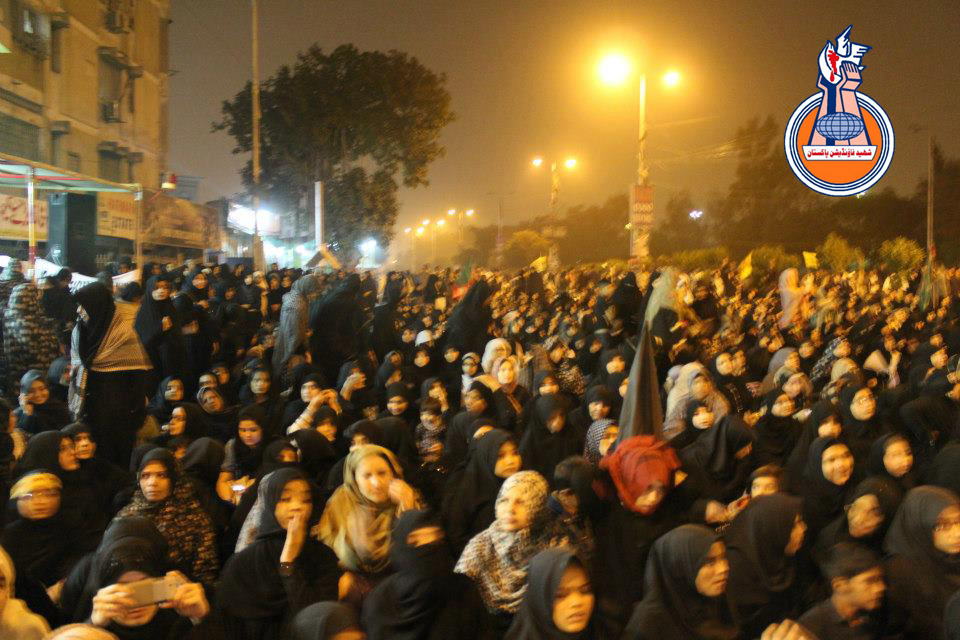 Toba Tak Singh Protest Picture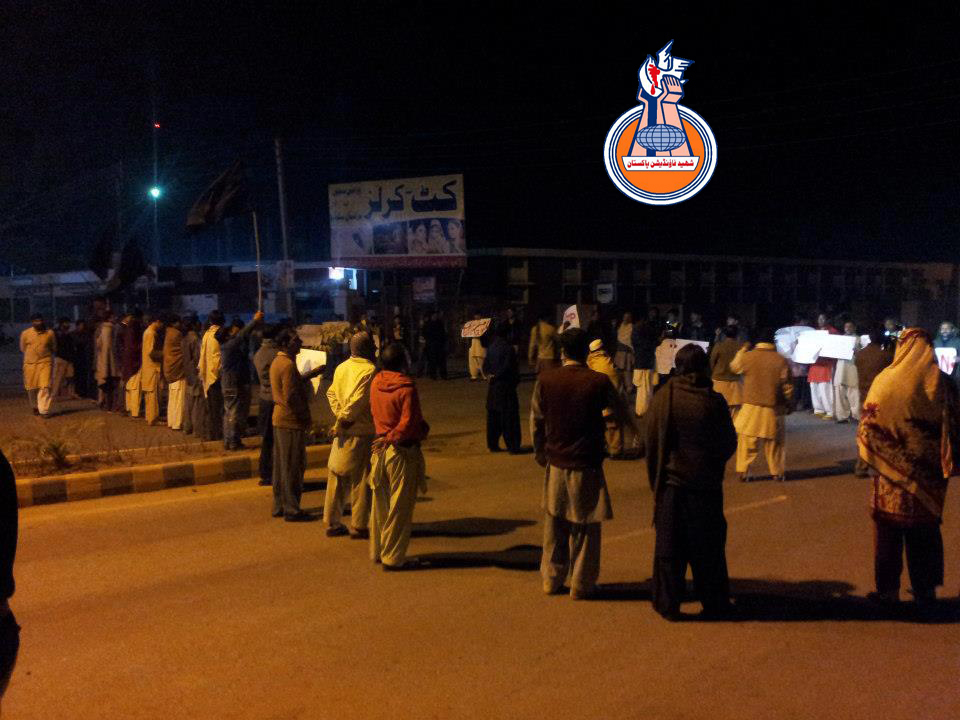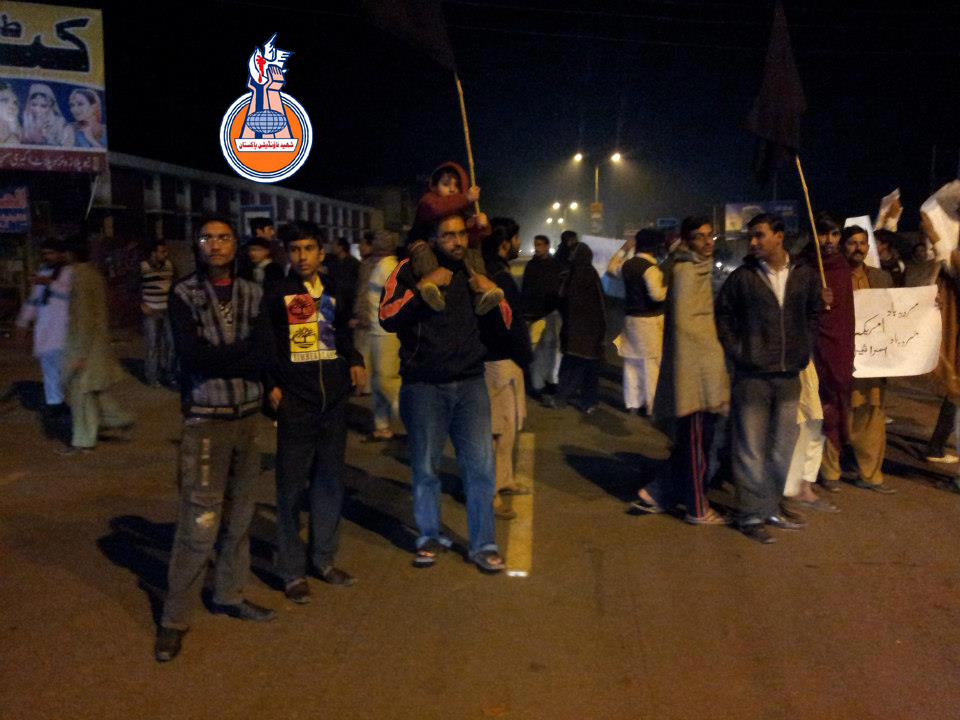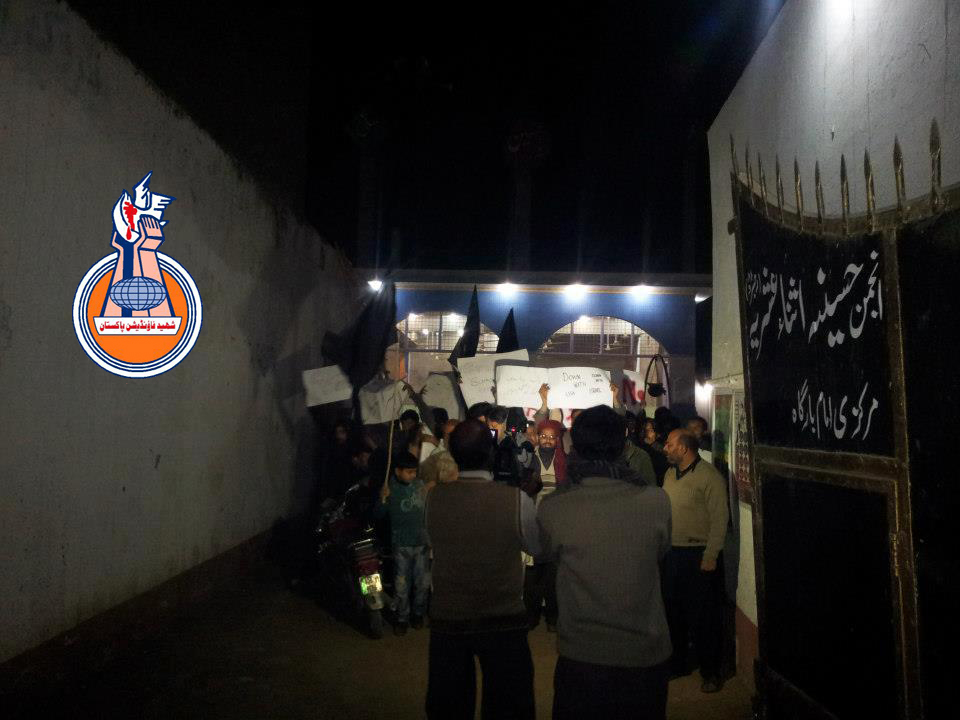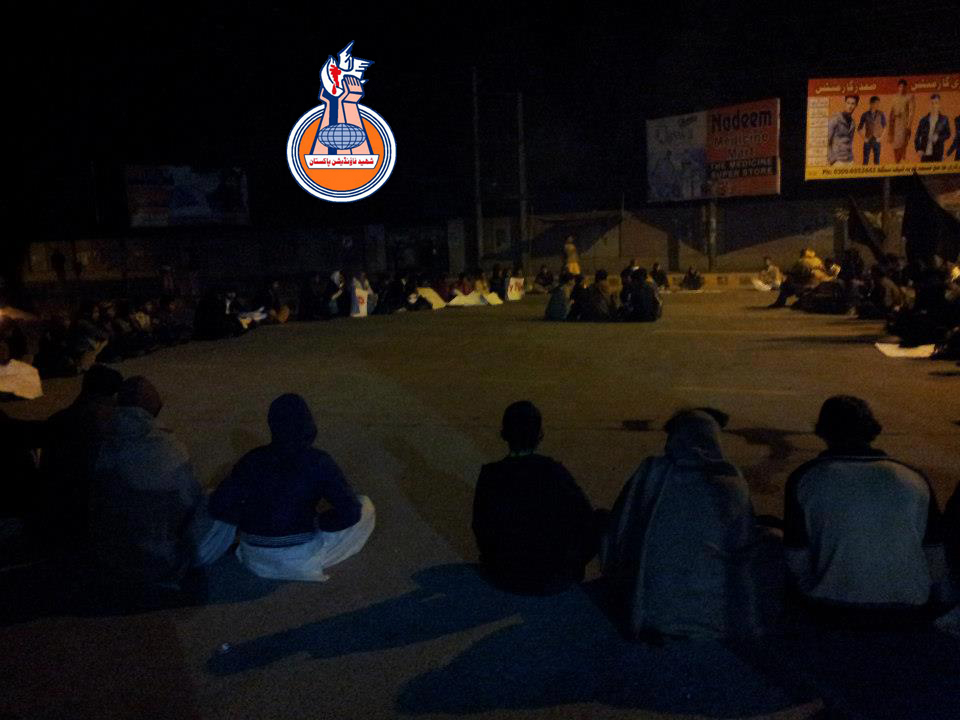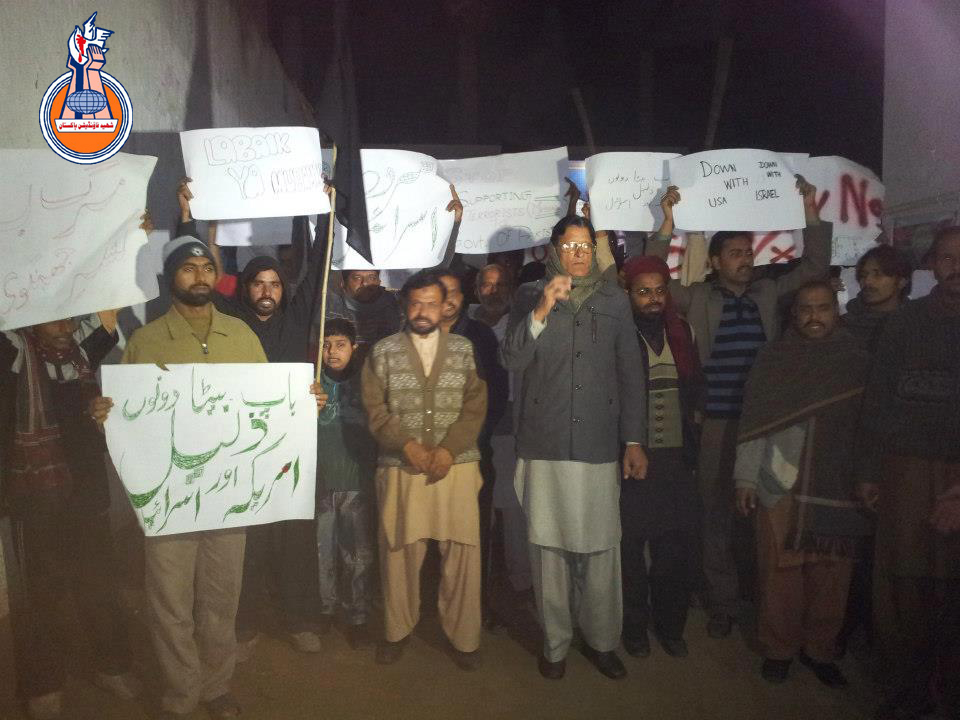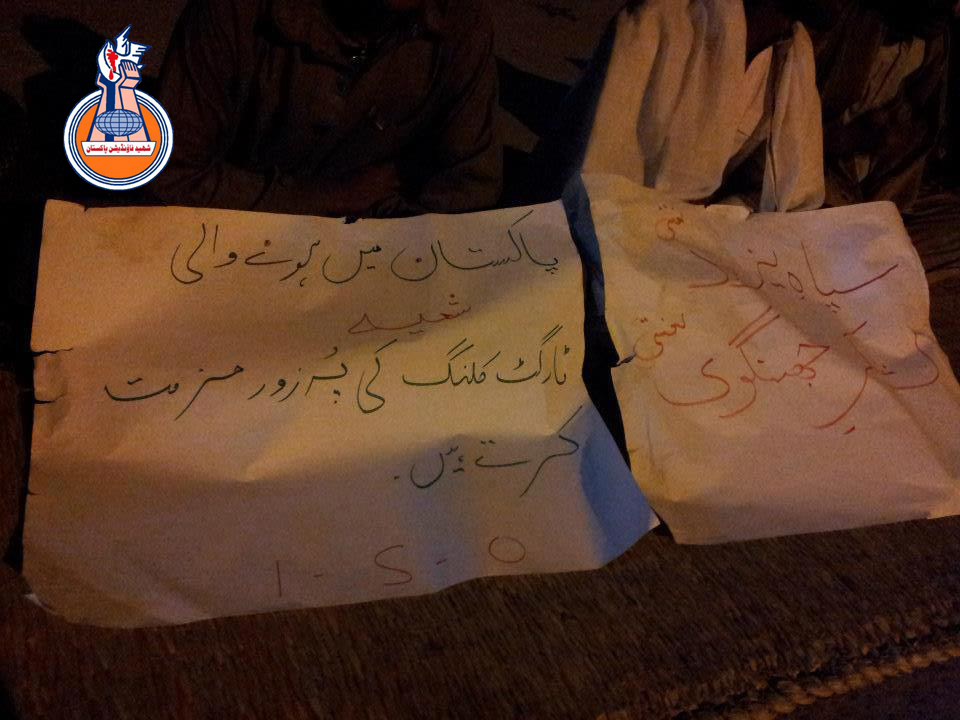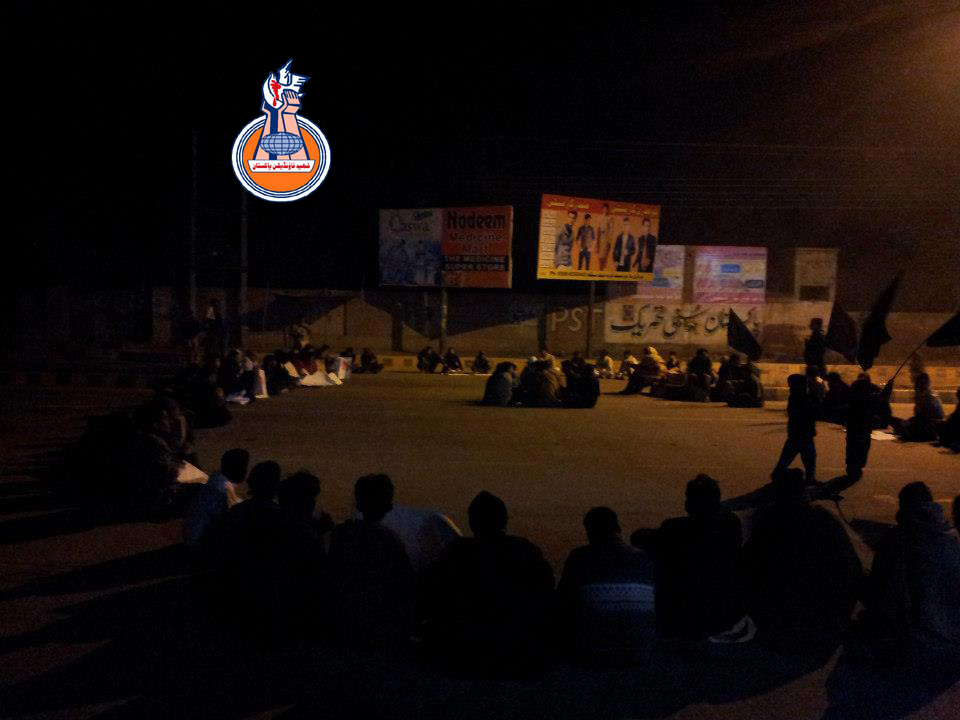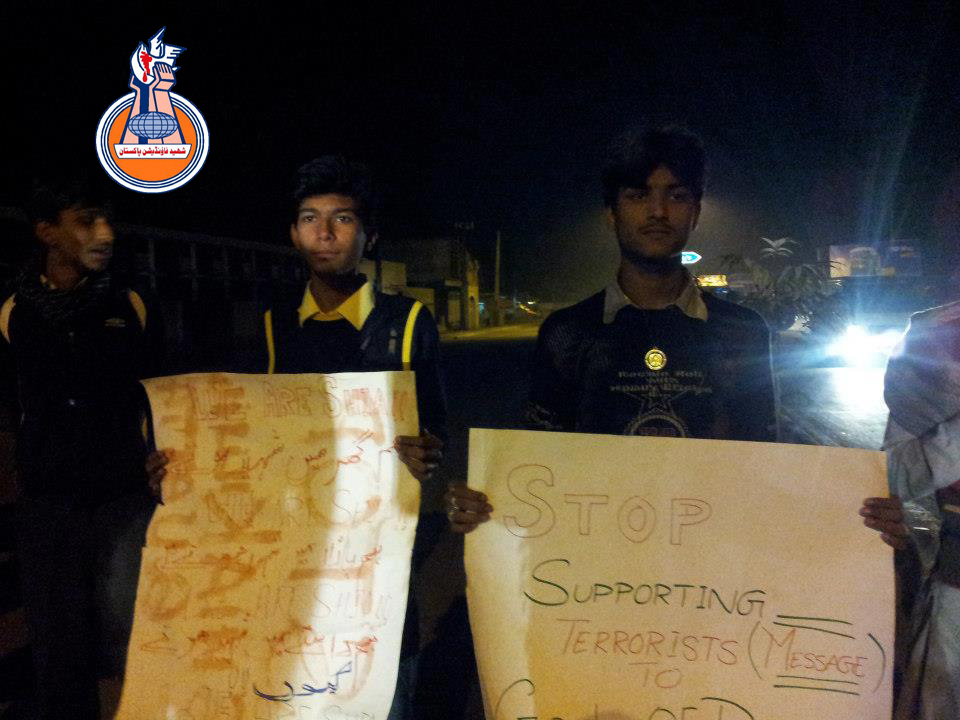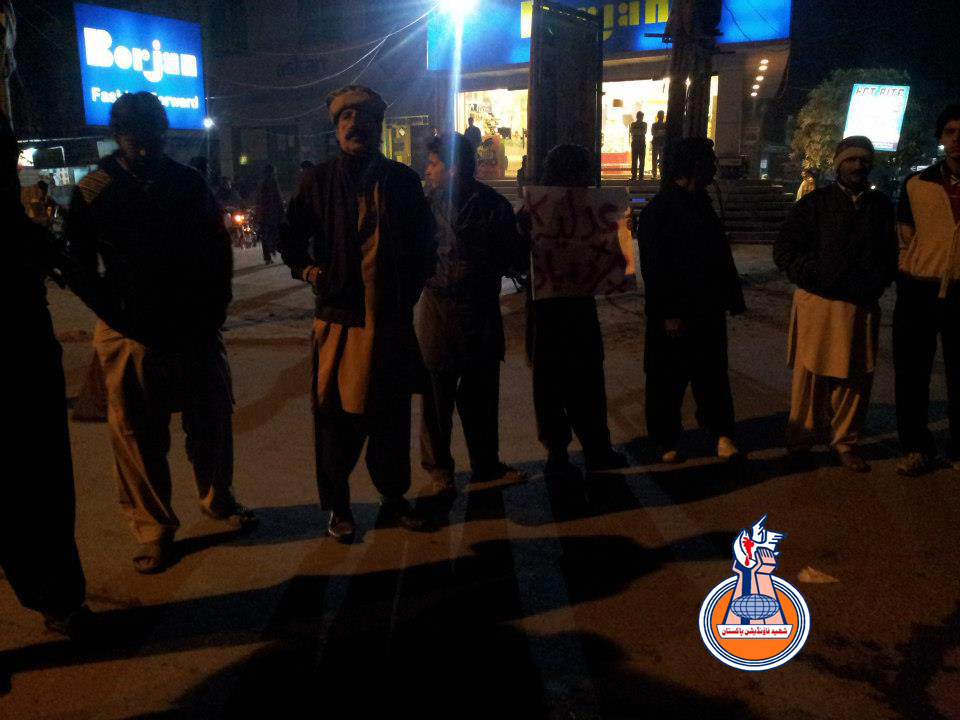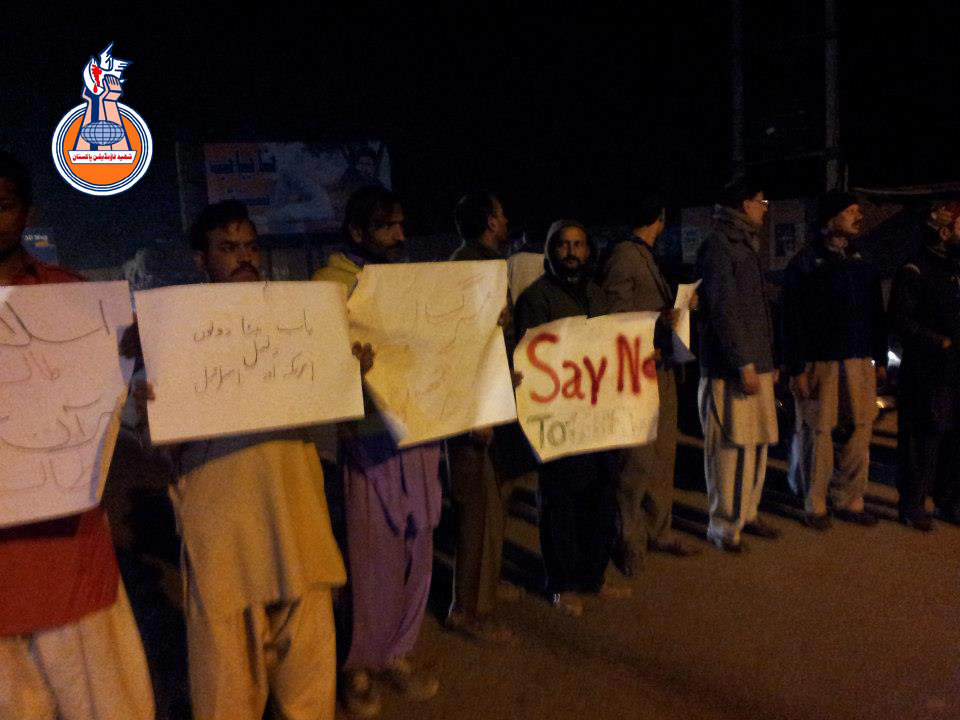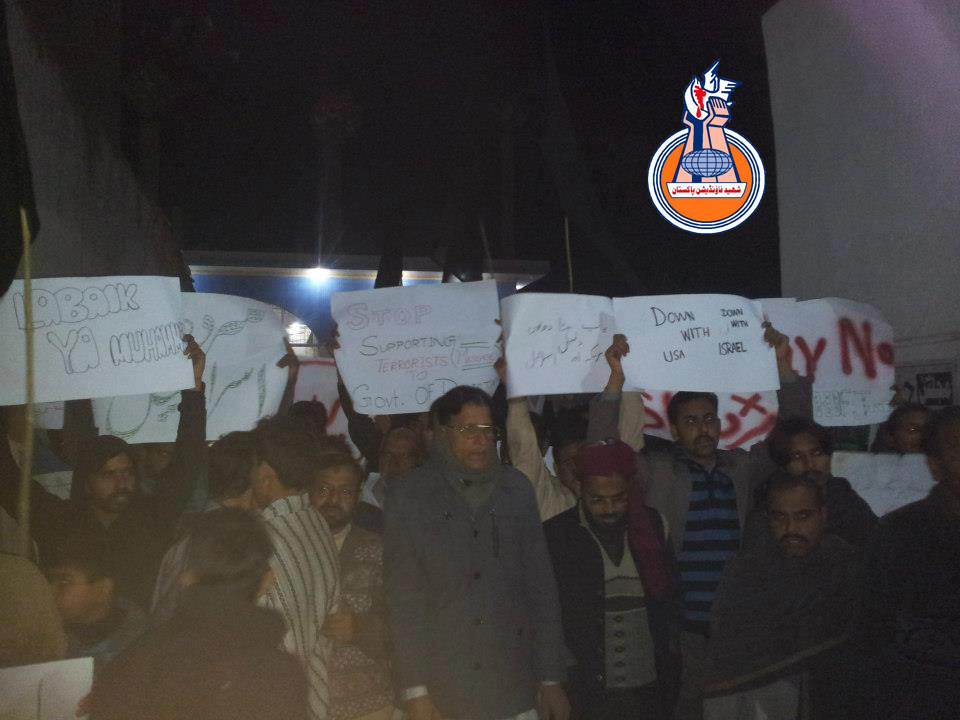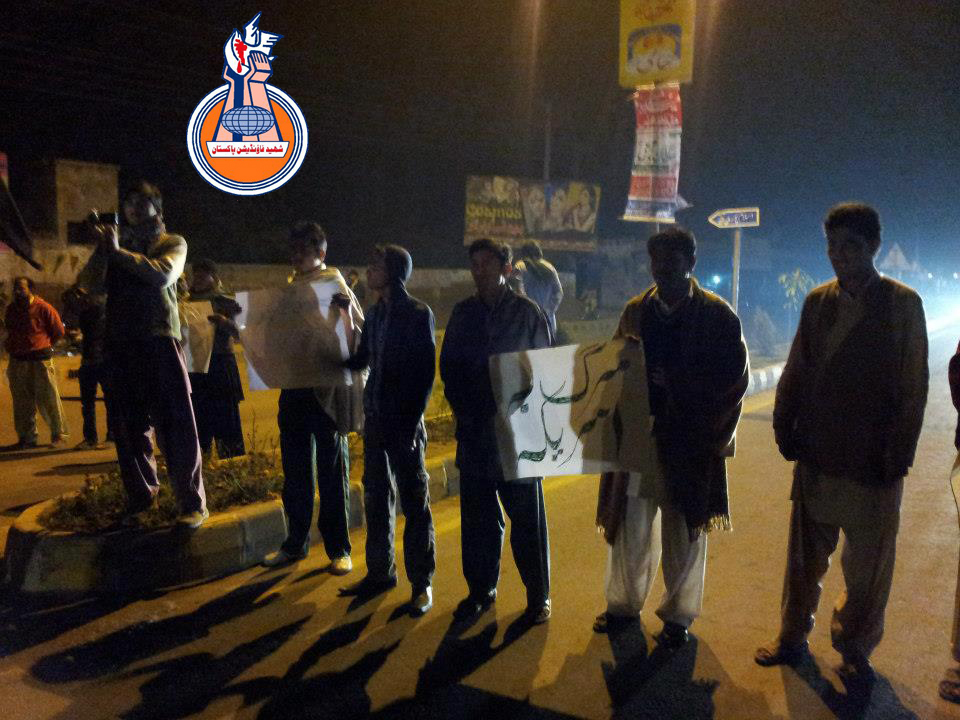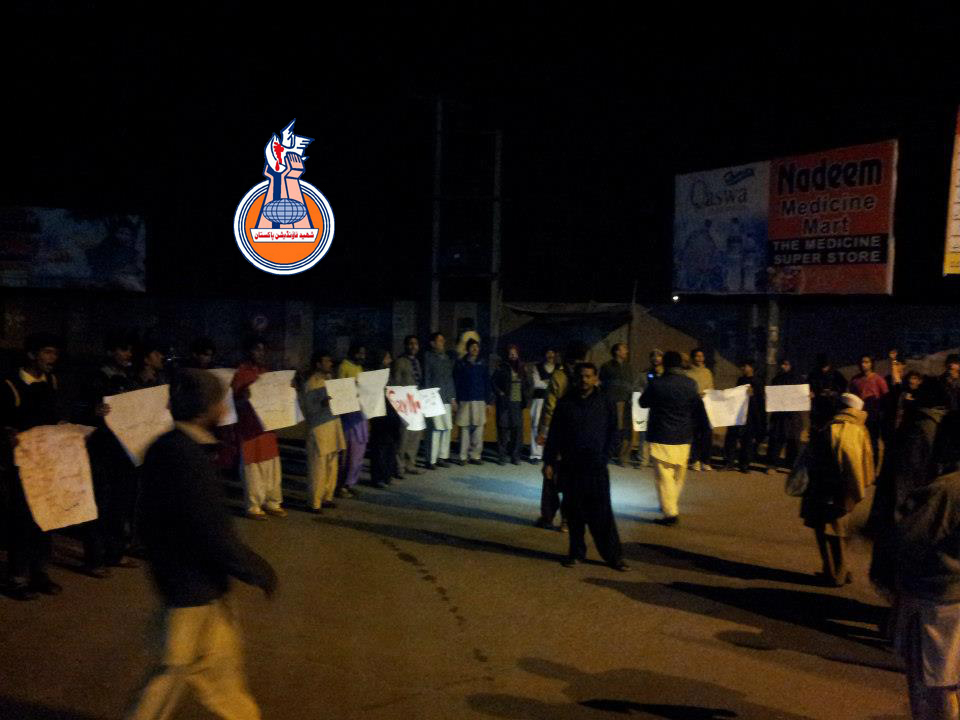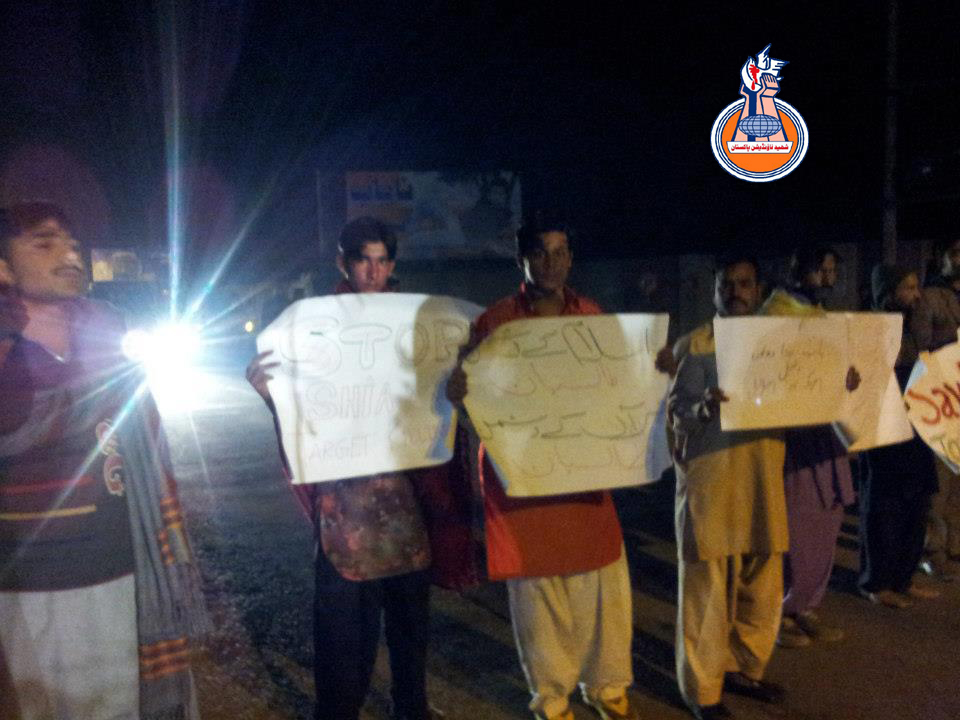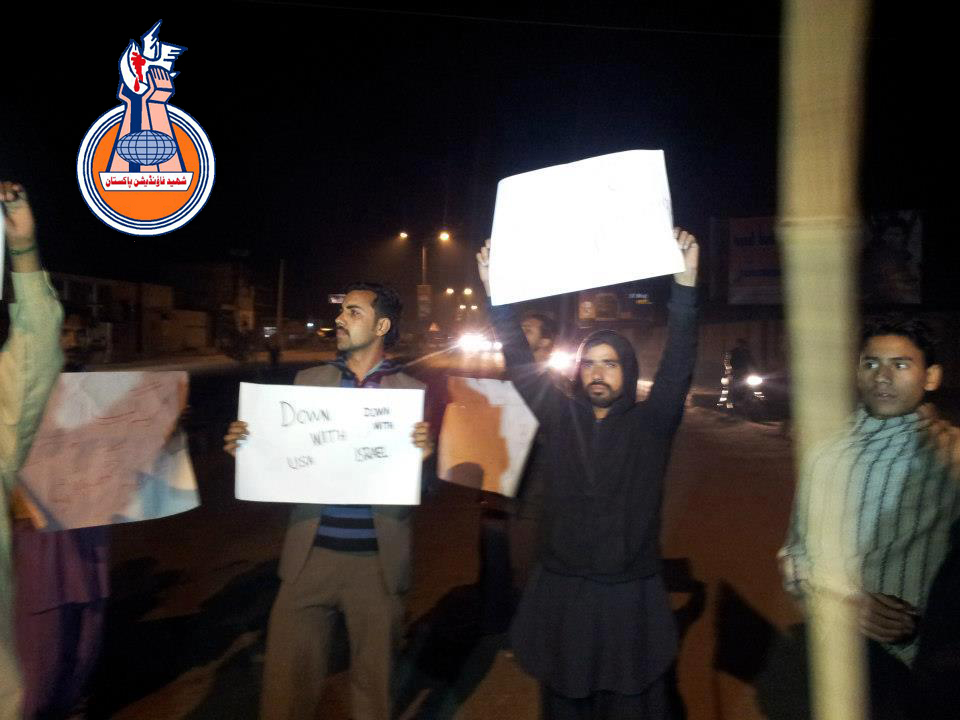 Karachi Sit-In (Incholi)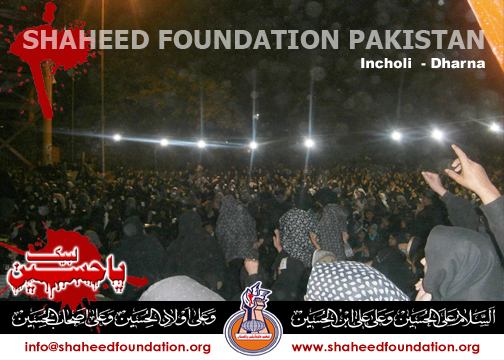 Karachi Sit-In (Rizvia)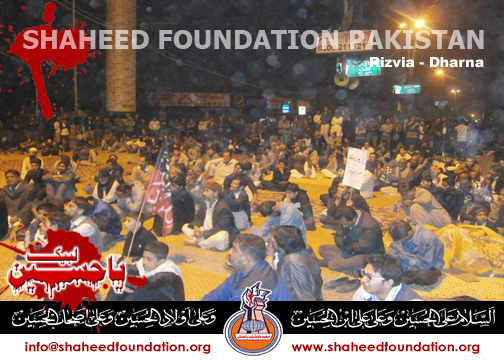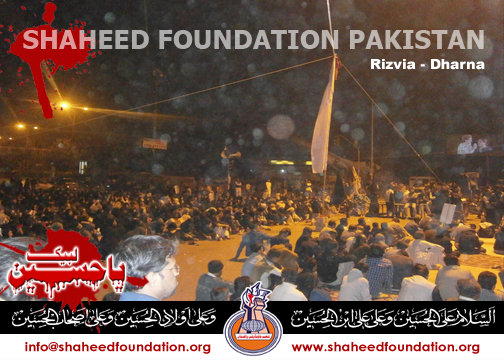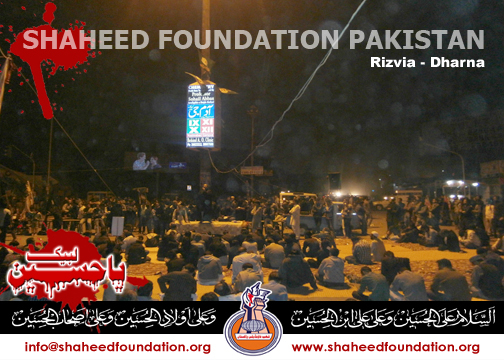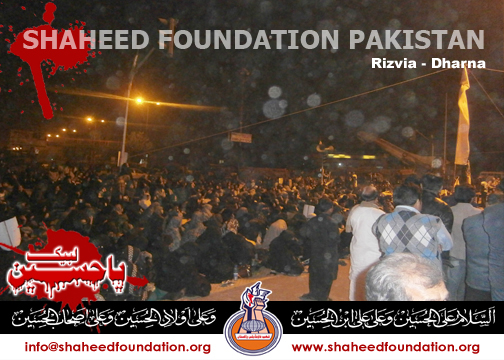 Karachi Sit-In (Nomish)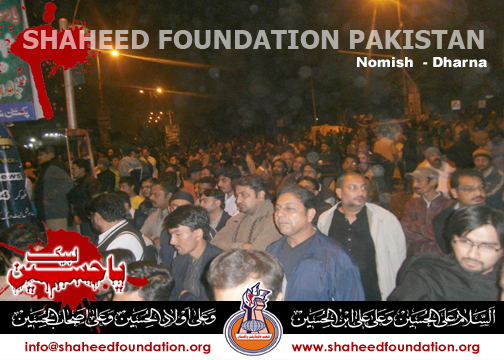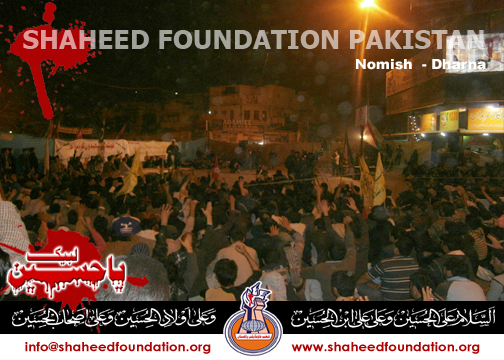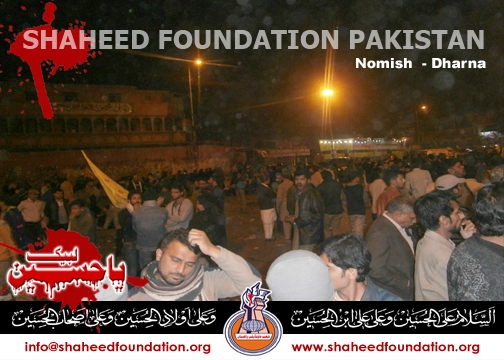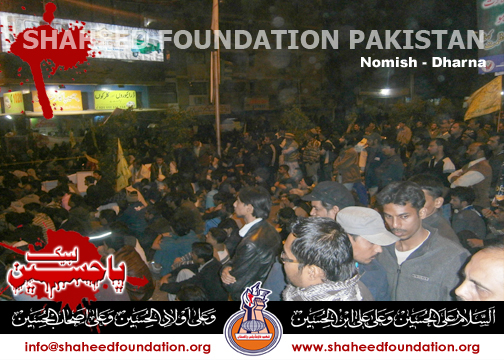 Lahore Sit-In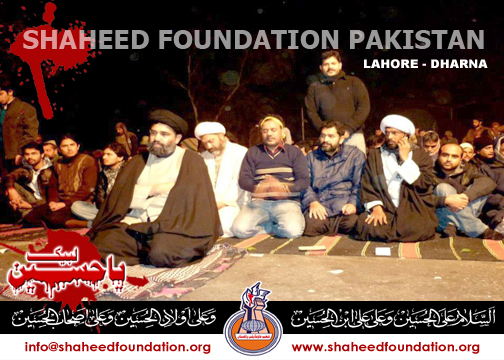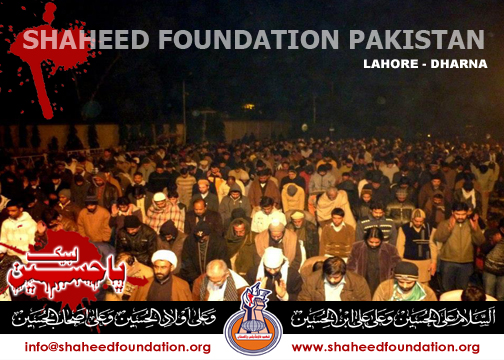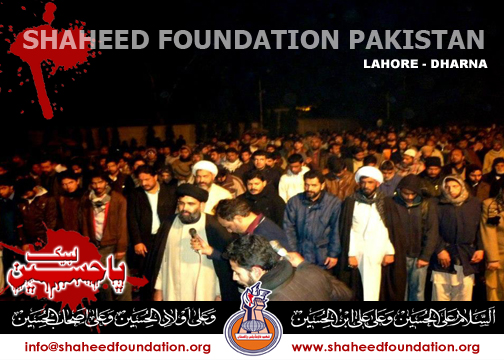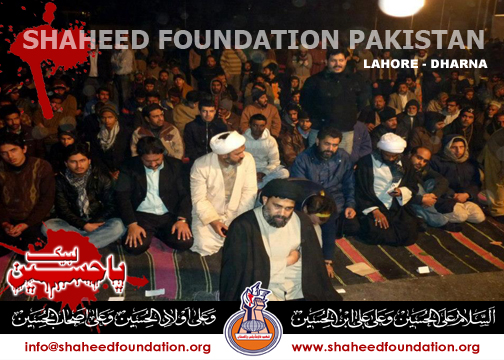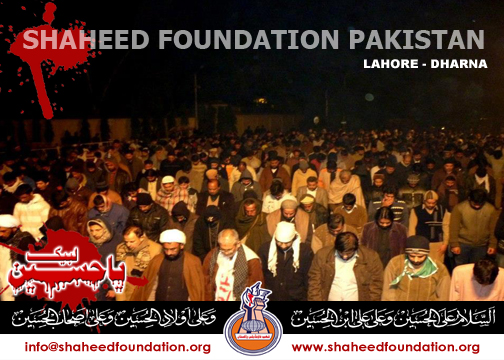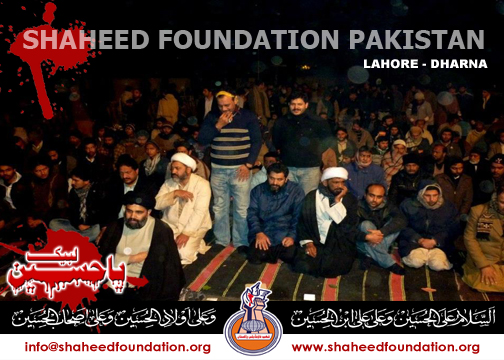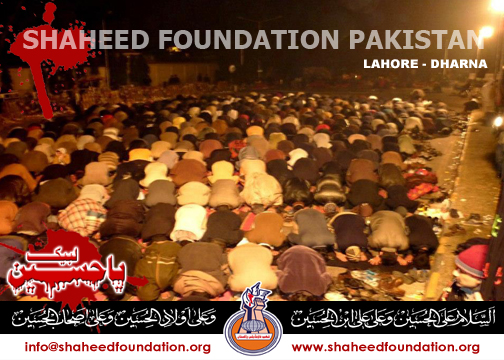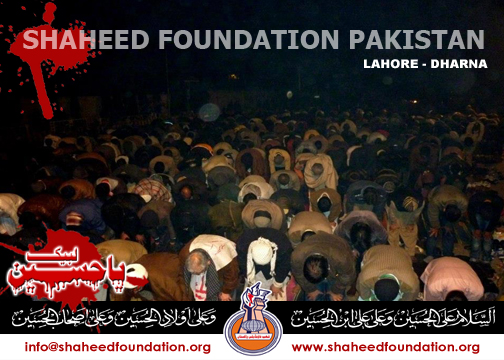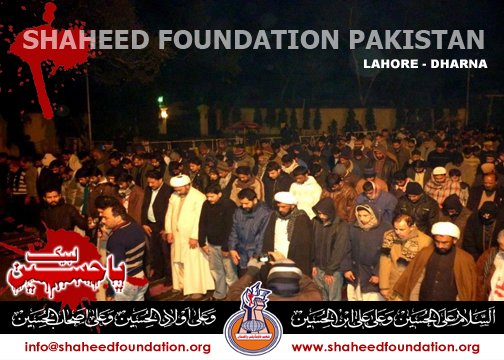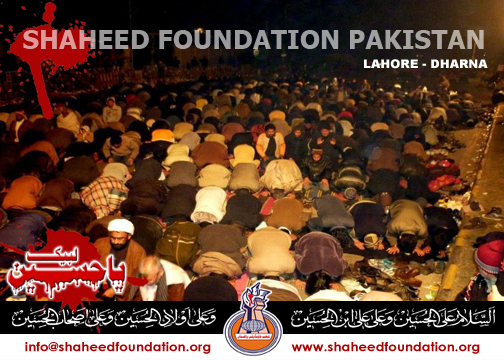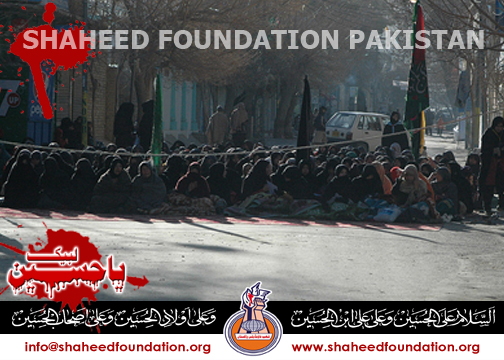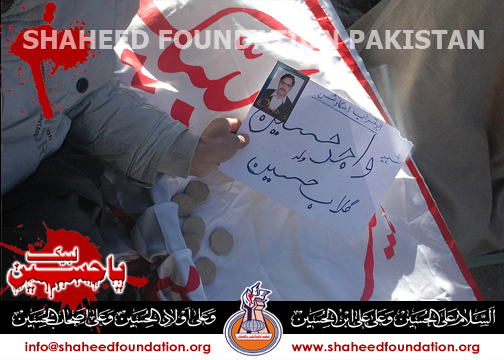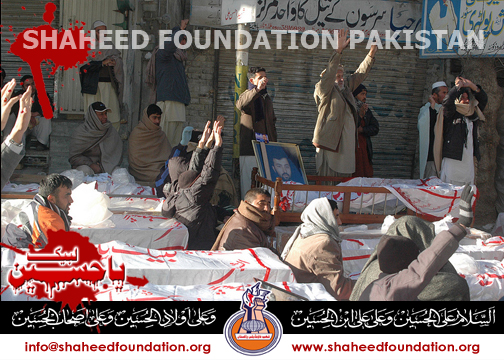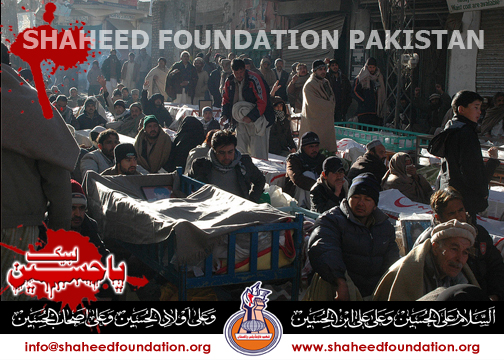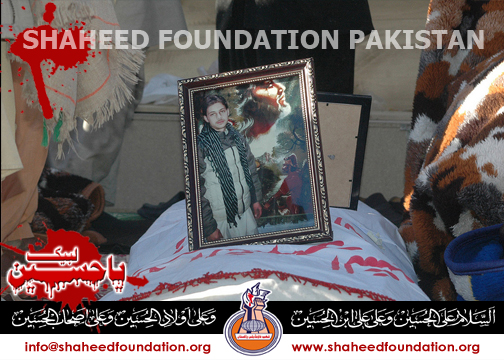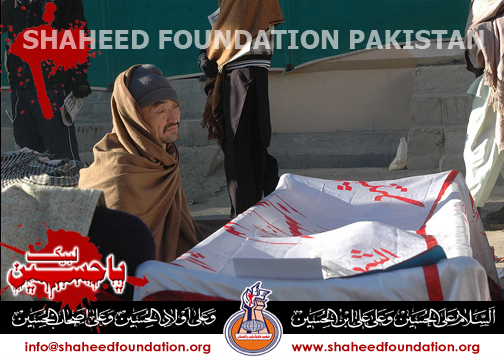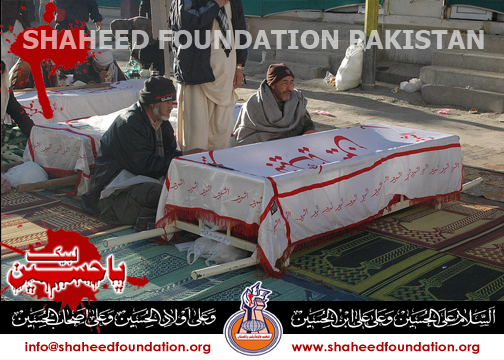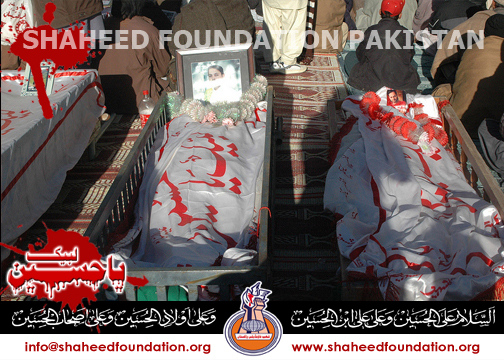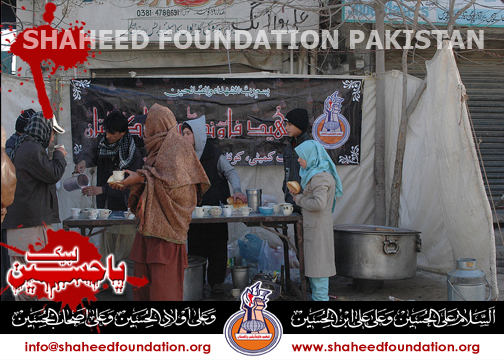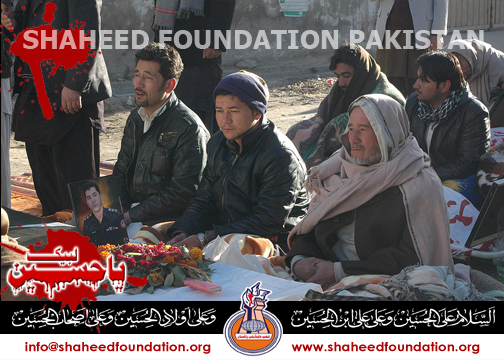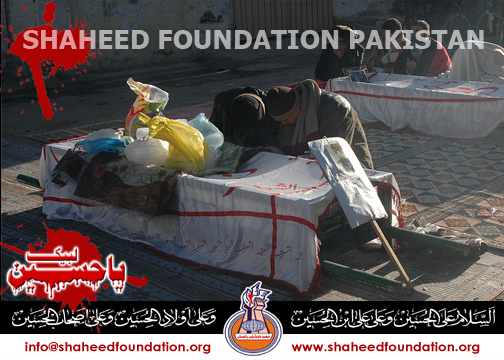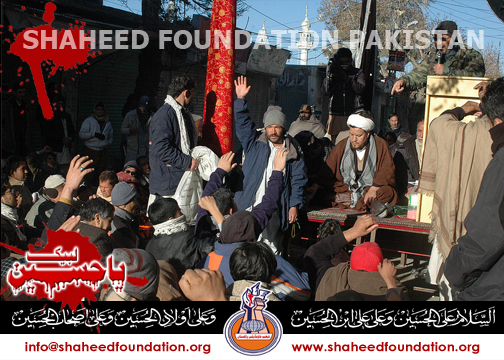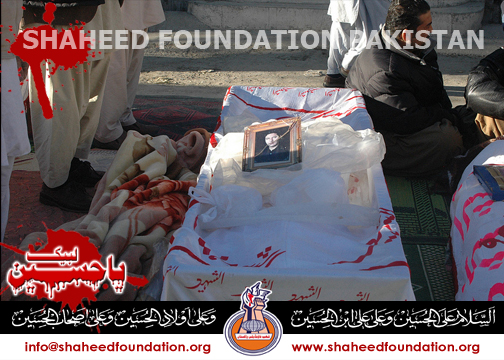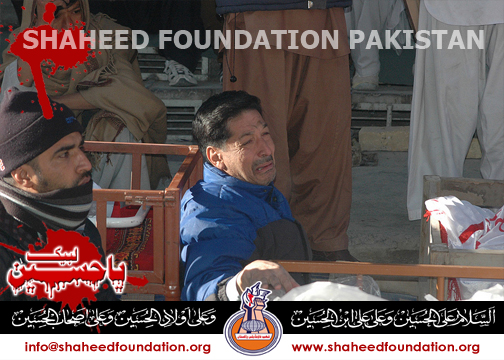 Else where in Pakistan ,lots of support is being extended by momineen to the brethren momineen in Quetta. There have been reports of sit ins and protests from the entire length and breadth of the beloved country. In Karachi, alone, sit in was continuing at five different places till late in light with the ones at Malir 15 (National Highway) and Nomayesh Chowrangi capturing maximum attention. Similarly momineen are braving intense cold and continuing sit in in front of Punjab Governor House to express solidarity with Quetta momineen. In Multan Sit in is being staged in Nawaan Shehr, in Sialkot at Sublime Chowk, in Nawabshah at Parahtah Chowk. At Islamabad a massive sit in at Faizabad interchange will resume at around 11 am.

Not just in Pakistan ,but even outside of Pakistan, expatriate momineen residing in different places are expressing their solidarity with Khanwada-e-Shohada-e-Alamdar Road Quetta.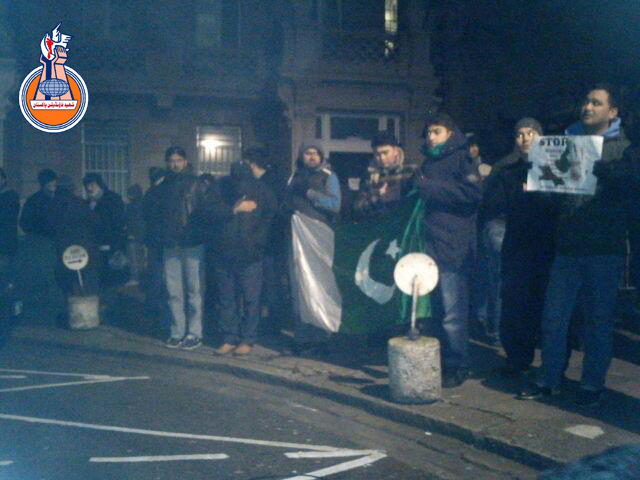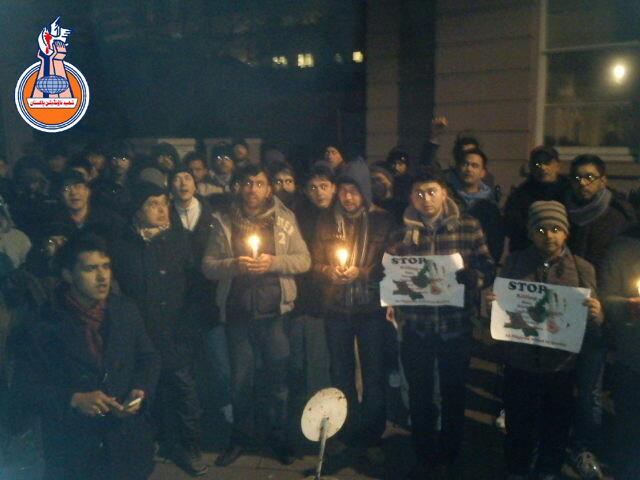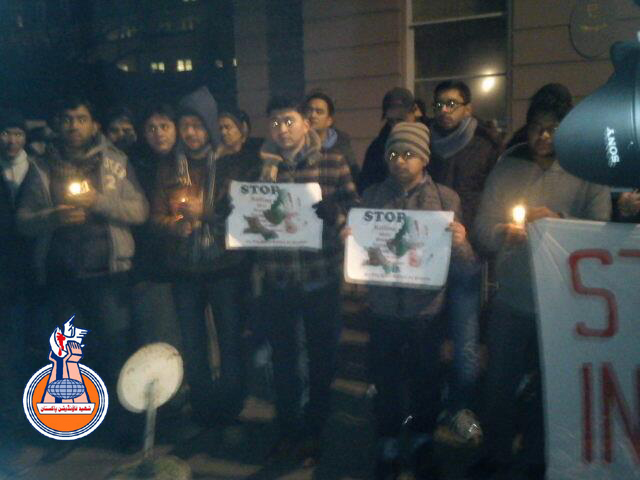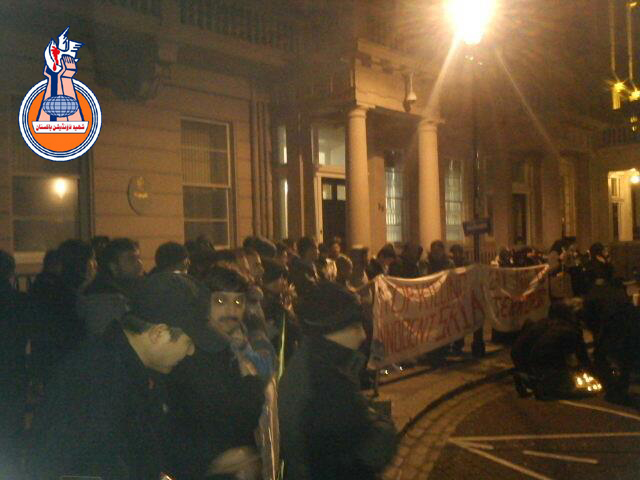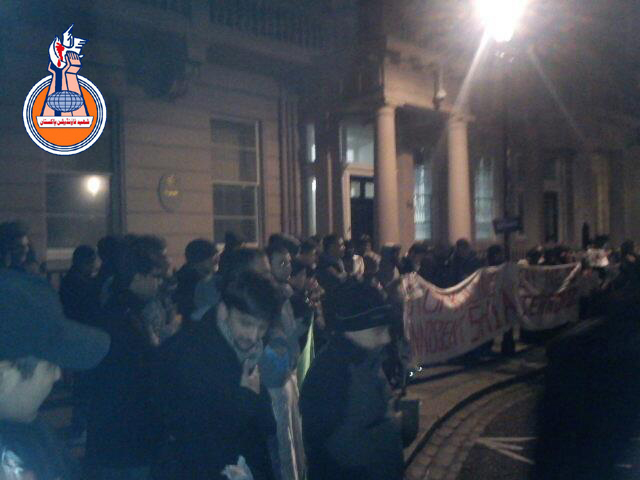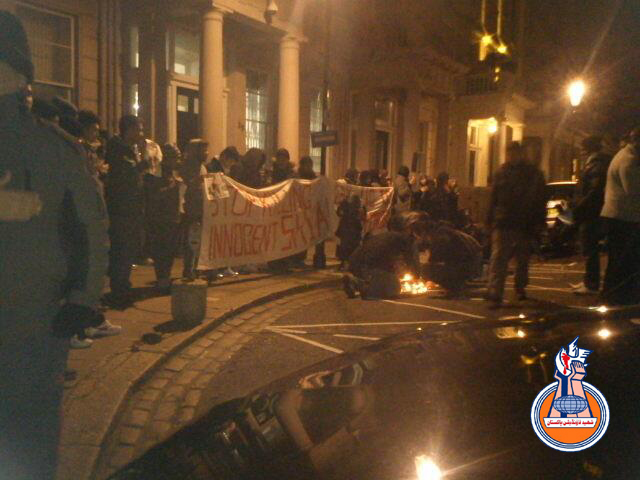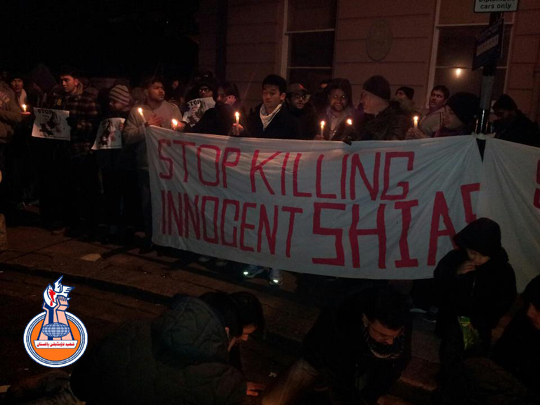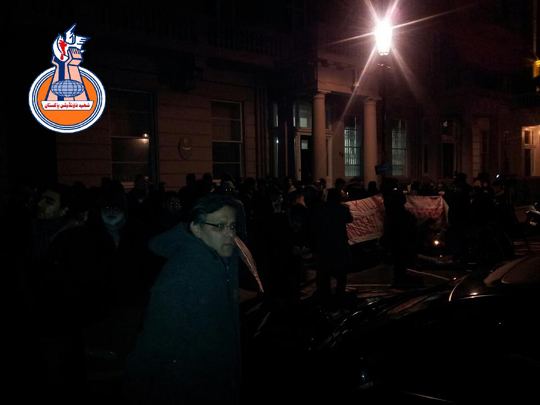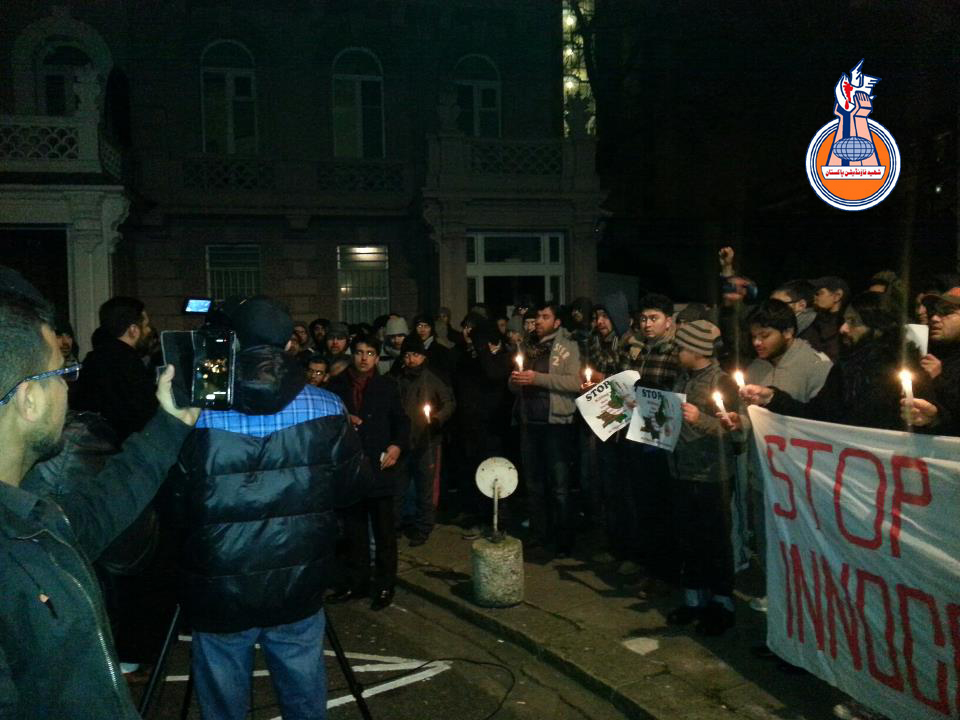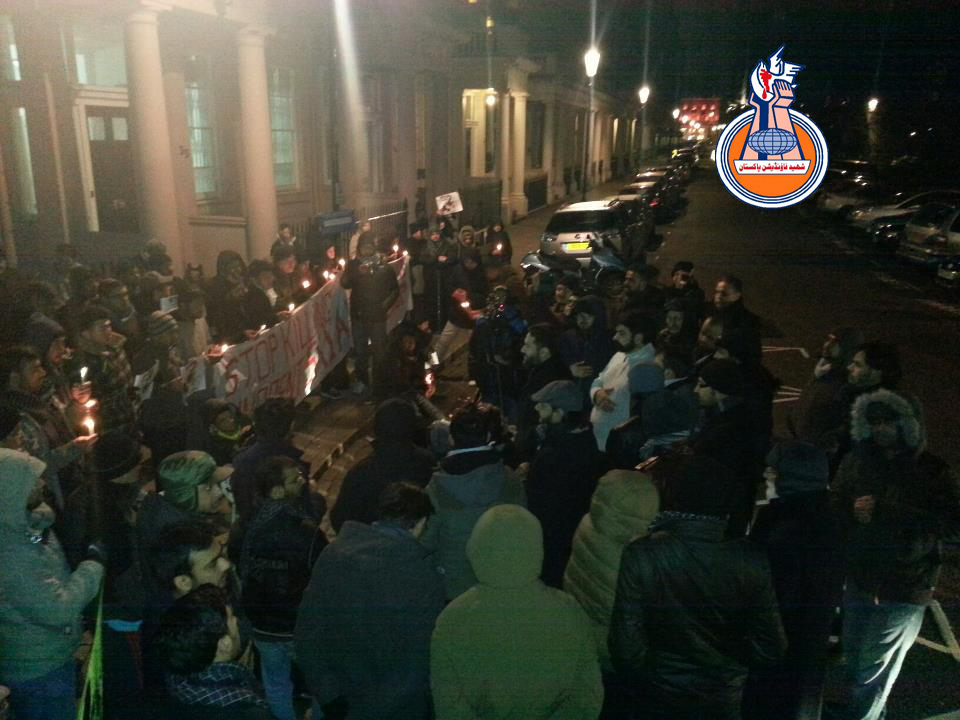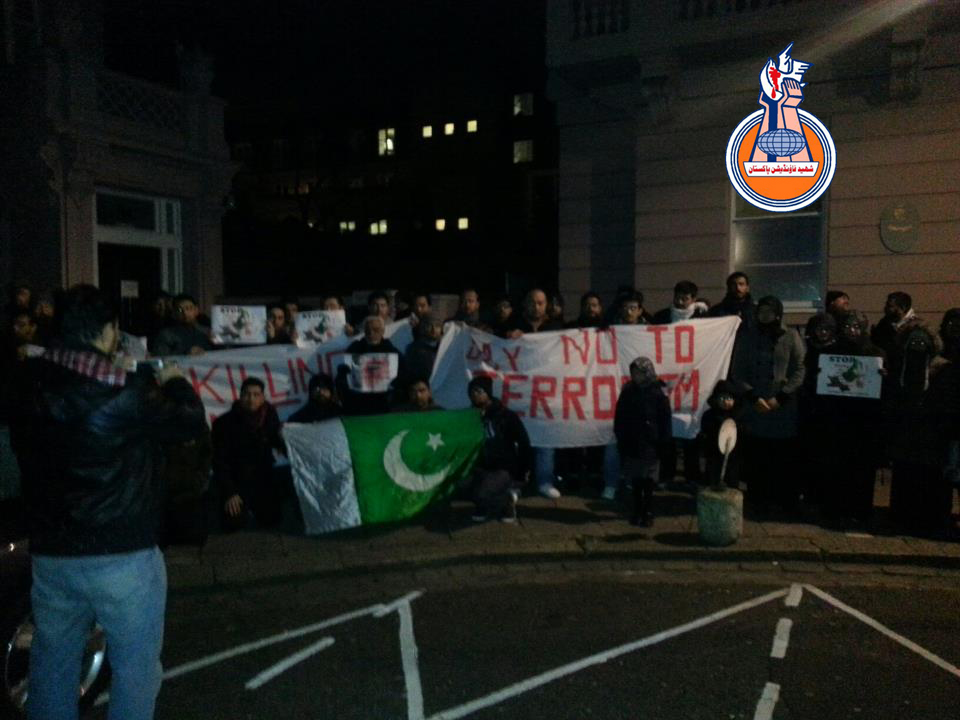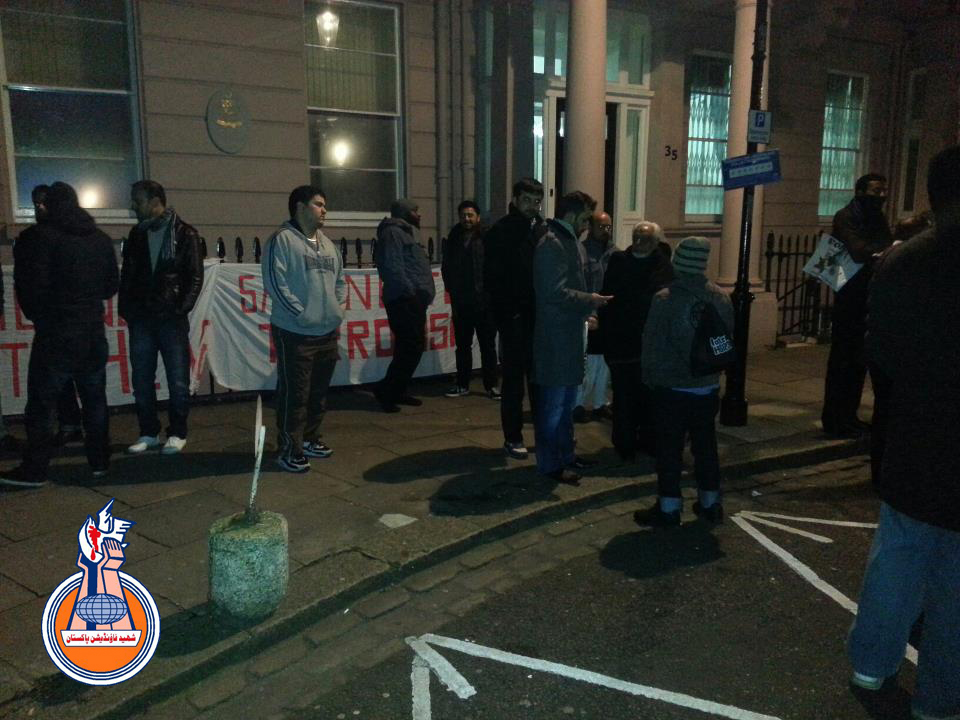 Karachi Incholi Sit-in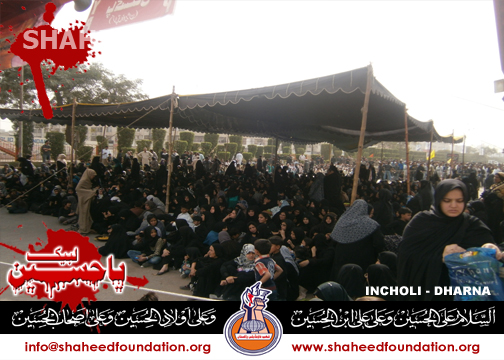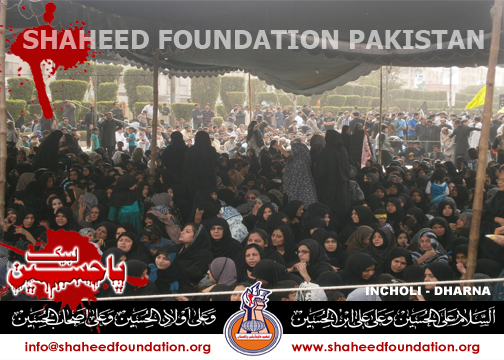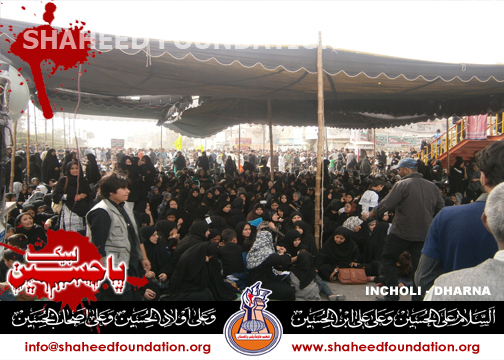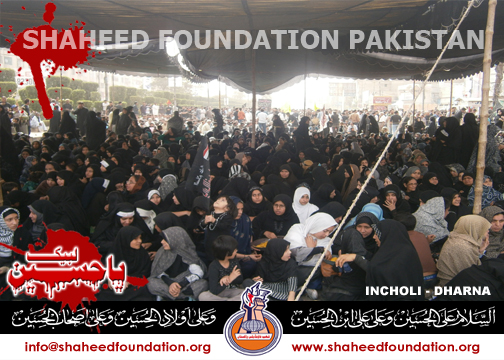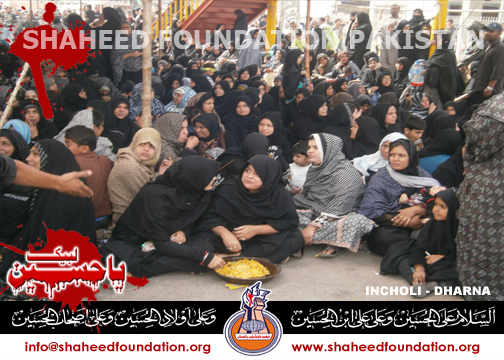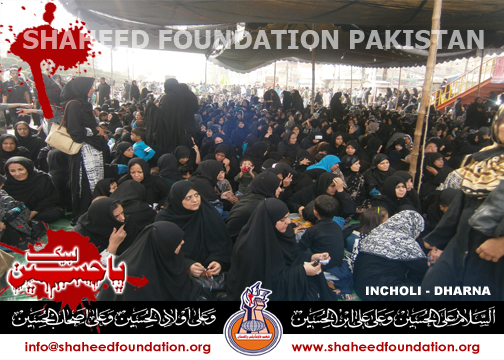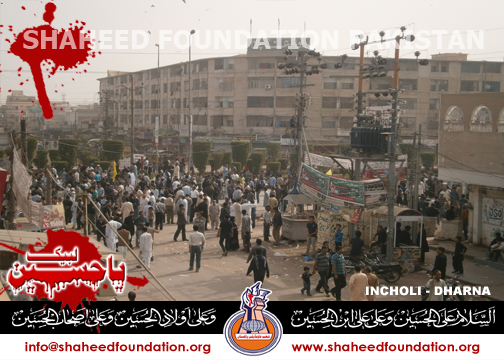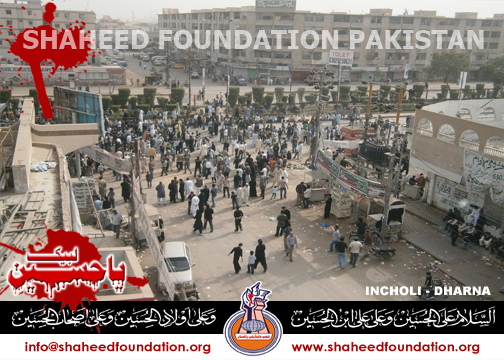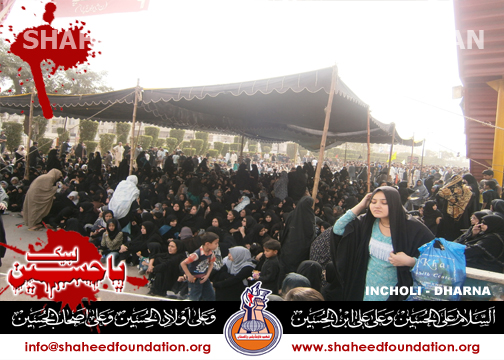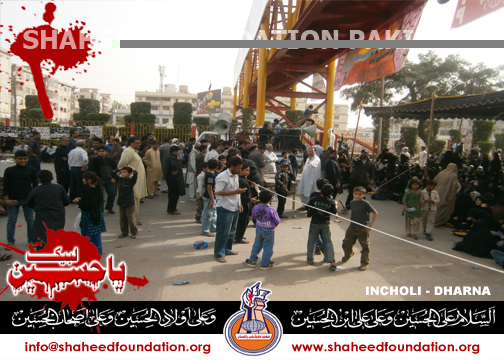 Sit ins are being staged at five different places in Skardu Baltistan.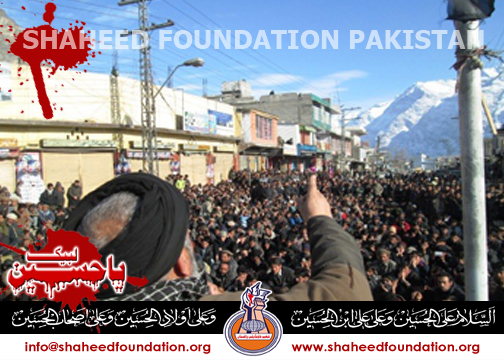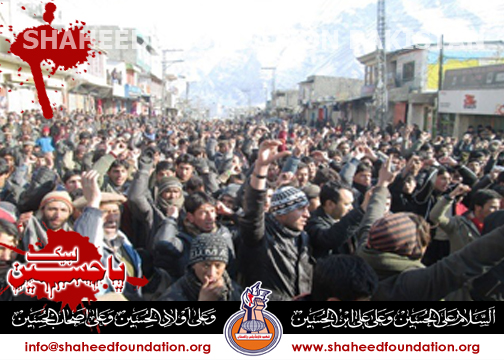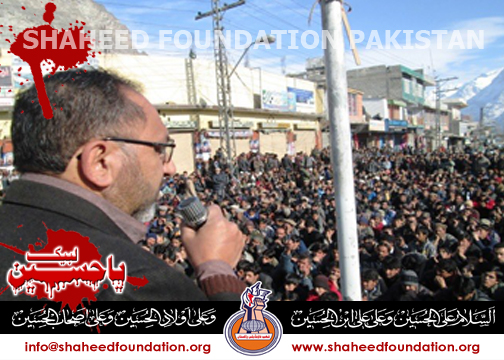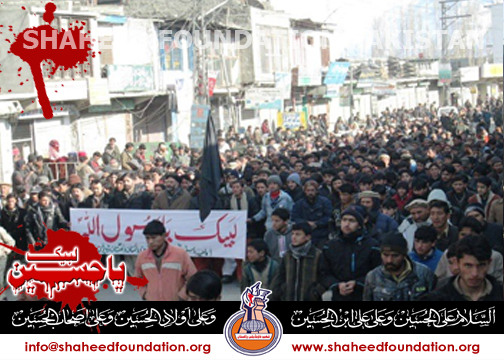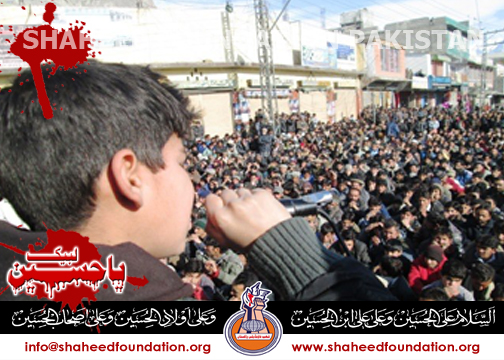 Jhang Dharna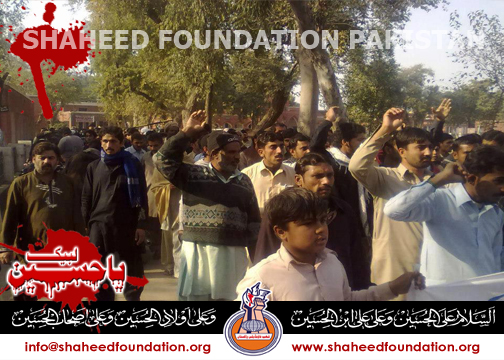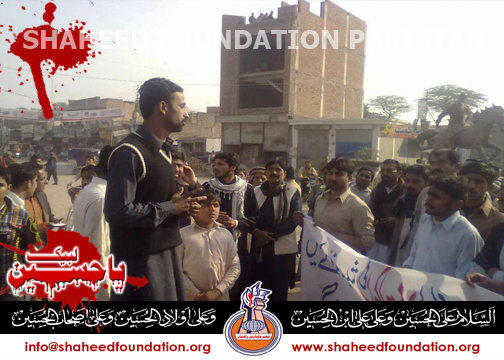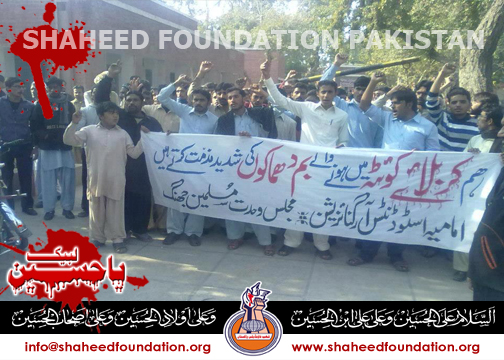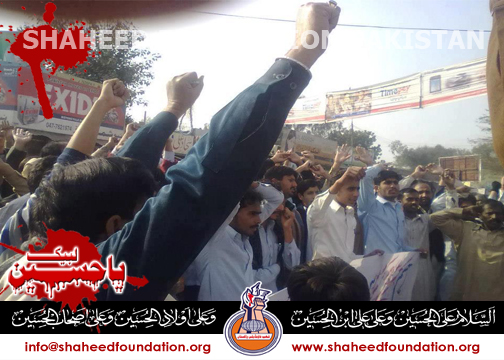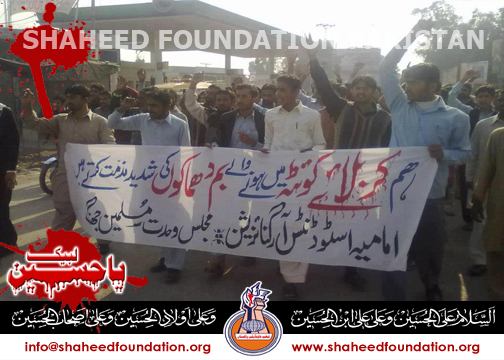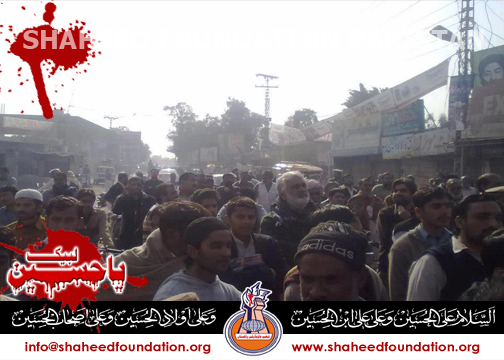 48:1 Verily We have granted thee a manifest Victory

Quetta`s Yakjehti Council a conglomerate of Shia Organizations ,local elders as well as Ulema-e-Karam announced that Shaheed` burial will take place after Namaz-e-Zohrain. Hats off to the brave Khanwada-e-Shohada who have really lived upto the honour and dignity of the sacred blood of Shohada in the truest sense of the word as they remained steadfast in freezing cold along with coffins of martyrs on Alamdar Road for nearly last seventy hours.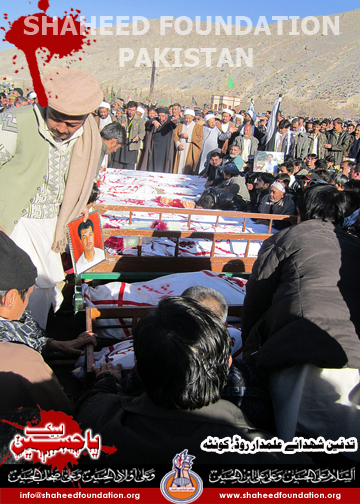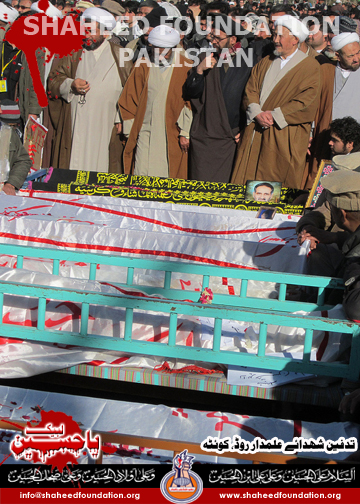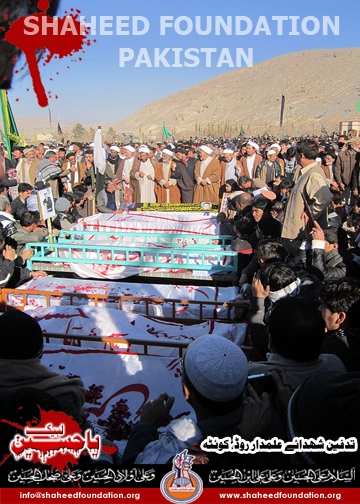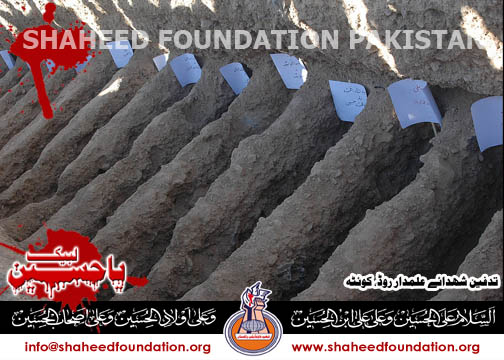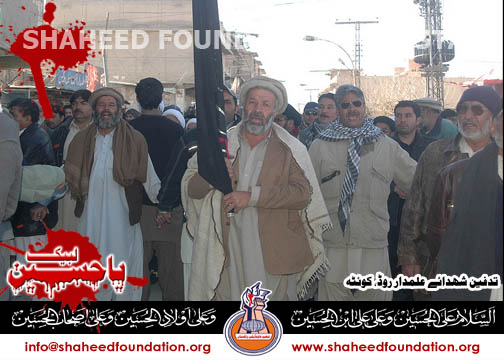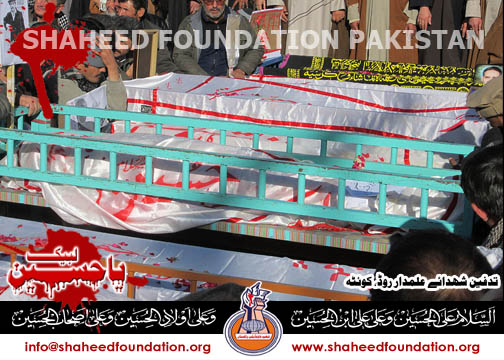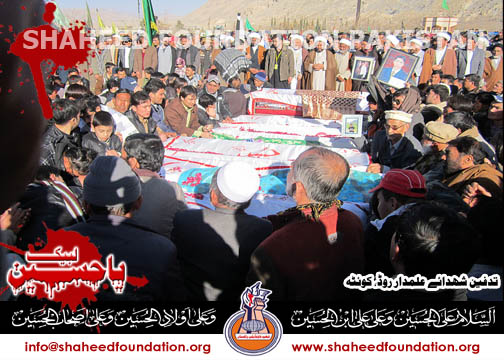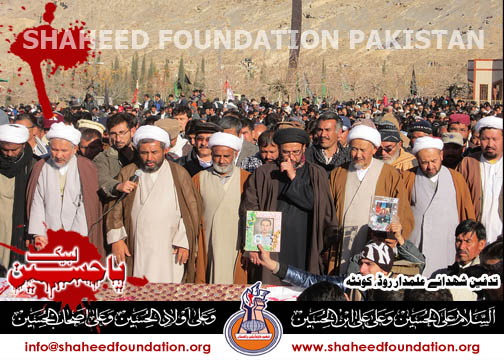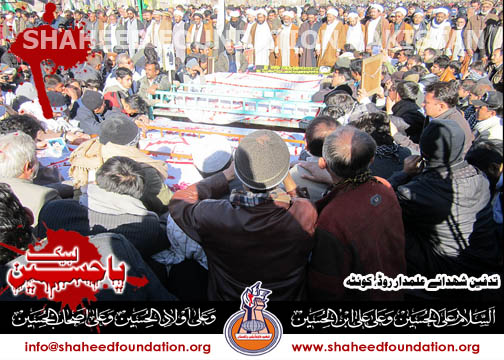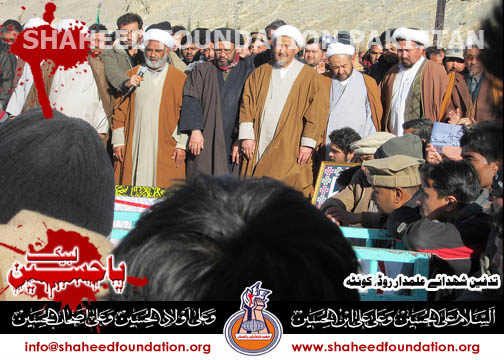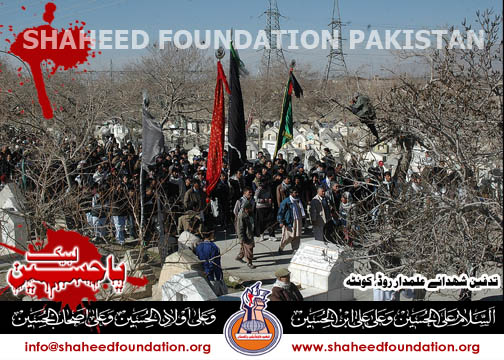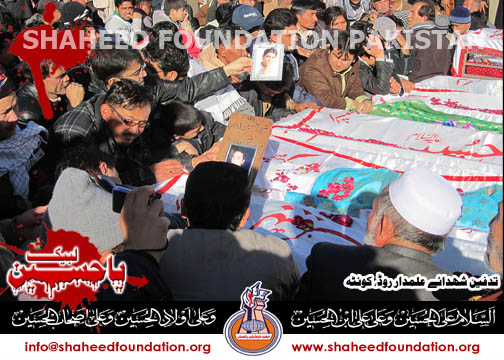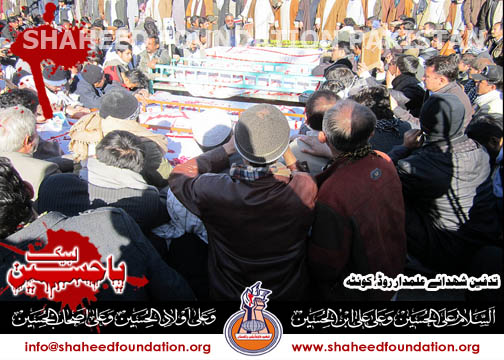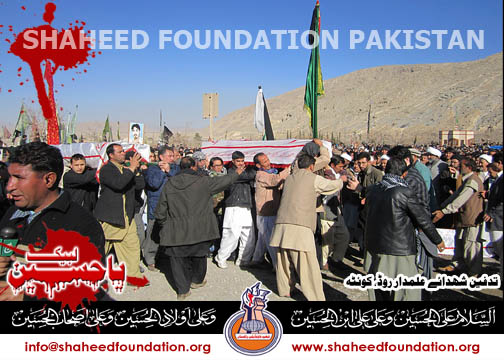 It has been learnt that now ,the coffins are being moved one by one to Bahishte Sayyida Zainab(SA) cemetery where namaz-e-janaaza will be collectively held and burial will take place. Moving scenes are being witnessed here at Alamdar Road. The extreme patience,historical steadfastness ,personified bravery and the blood of Shohada stamps another tactical victory ,very very very ably preserved by Khanwadgan-e-Shohada and of course very very resiliently backed up by momineen from all corners of the world,not just from Pakistan.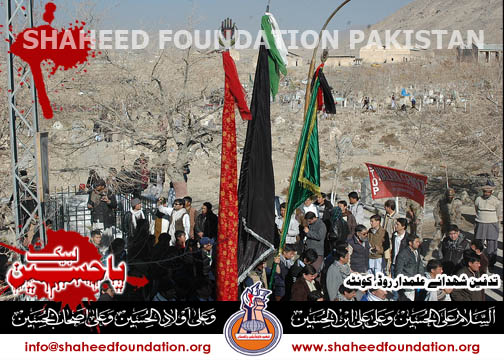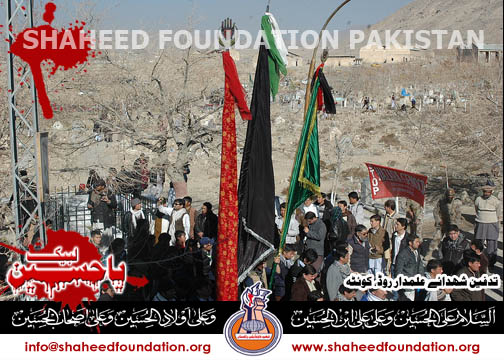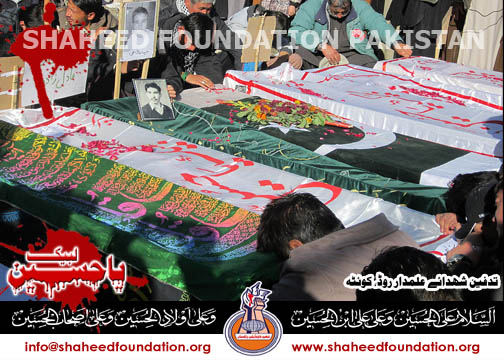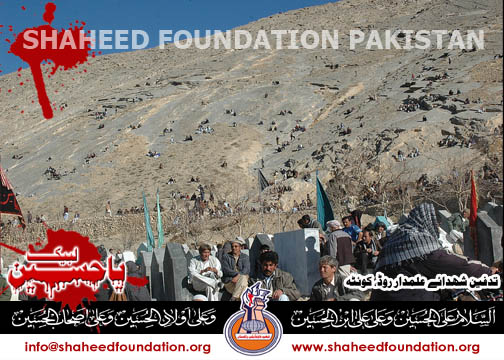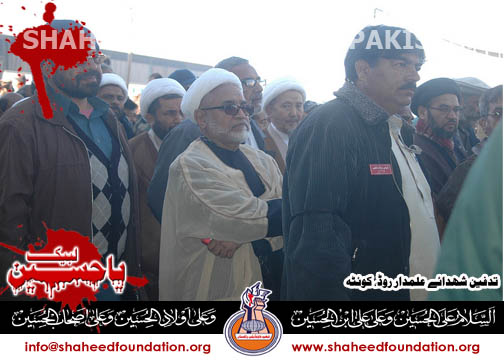 At the times of filing of these lines solidarity sit ins were continuing at more than two hundred cities ,towns ,intercity links,government installations and offices ,Pakistani embassies and high commission places according to very very very modest estimates.

The protests in different countries were also witnessed like Pakistan in solidarity with Quetta Sit-In protest. The protests witnessed in United Kingdom`s London, Australia`s Brisbane, Spain`s Barcelona, United State`s New York & Dallas

The protests in cities of Pakistan including Karachi, Sukkur, Rohri, Lahore, Ghorti, Nosheroferoz, Moro, Hyderabad, Shikarpur, Jacobabad, Larkana, KandhKot, Badin, Tando Allah Yar, Tando Bago, Matli, Golarchi, Talhar ,Tando Muhammad Khan, Chakwal, Attock, Sialkot, Ratodero, Moro, Nawabshah, Dadu, Sakrand, Kashmore, Kandhkot, Sukardu, Baltistan ,Multan, Khairpur, Hala, Badin, Thatta, Gilgit, Rajanpur, Khairpur Nathan Shah, Chiniot, Peshawar, Sheikhopura, Jhung, Dera Ghazi Khan, Bhakkar, Chakwal,Bhalwal, Bahawalnagar, Sargodha, Dera Ismail Khan, Ranipur, Parachinra, Obaro, Taxilla, Faisalabad, Matiari, Uch Sharif, Jamshoro, Alipur, Matli, Sardar Garh, Sadiqabad, Narowa, Obaro (Sindh-Punjab Border), Mirpur Mathelo, Padidan, Kohat, Mianwali, Bahawalpur, Muzaffar Garh ,Mianchunu ,Sahiwal among others were reported.

In Karachi, the protests were reported among others at Karachi Press Club, Numaish Chowrangi, Incholi, Malir, Gulshan-e-Maymar, Ahsanabad, Star-Gate, Drigroad, Abbas Town, Bilawal House, 5 Star Chowrangi, 2 Minute Chowrangi, Orangi, Shahrah-e-Pakistan and Johar Mode, Super Highway, Sachal Goth, Natha Khan, Landhi, Korangi, Power House areas, Steel Town,Safura Goth.

What a Shohada these were that they have rejuvenated and resuscitated the entire shias across the world. Hats off to these brave martyrs ,their equally brave families and their equally brave Millat-e-Jaffaria.

It will be injustice if tribute is not paid to all of our resilient Shia organizations and Ulema-e-Karam who have wholeheartedly worked to bring further glory to Millat-e-Jaffaria Pakistan.

Especially such a massive countrywide, peaceful ,very coordinated and intelligent response in solidarity to Quetta momineen was not possible without their active support. Its definitely the country`s entire history`s record keeping in mind these some parameters, numbers of sit ins , durations of sit ins ,area of impact of sit ins, scale and magnitude of sit ins and turn out of the sit ins amid all odds i.e weather ,terrorism threats and complete media blackout (Unless it spiralled into such an event that media was left with no other option).

It has proved once again the fact that in this jungle kingdom bereft of law where supposed protectors in all the pillars collude,connive and complicity work with all forms and kinds of terrorism ,only if you can assert power intelligently and show unity ,you are successful.

tareekh ne qaumon ko dya hai yehi peghaam
haq maangna toheen hai ,haq cheen liya jaye!

Demands or no demands is of little consequence we believe, as the greatest outcome is resilience ,discipline ,strength ,steadfast ,unity and solidarity expressed to Khanwada-e-Shohada.

In Sindh ,monday is being observed as a strike day in protest against these shahadats and most institutions,tranports,offices and businesses are closed right across sindh on advice of Shia Ulema Council.

Moments Ago Maulana Sadiq Raza Taqavi addressing press conference formally announced conclusion of sit ins being staged across the world in his press conference in infinite respect of decision made by Khanwada-e-Shohada.

Shahadats are a blessing for us and an adornment for us . All we have is to be most definitely sacrificed on Islam a million times over and over again without even the slightest hesitation. We made the country and we shall protect the country at all costs and cleanse our pure lands from the najis ideology of yazidiat and filthy personas of the puppets of global arrogance and yazidiat. It is incumbent on Millat-e-Jaffaria Pakistan to drive the global arrogance ,imperialism and their filthy planted agents out of our pure lands . We are a genre who are chasing yazid of 1300 years ago even today ,we shall never forget yazid of our time and we shall not and can not forget the blood of our sacred shohada. The only lesson is dignity will come when we will eliminate this ideology from our pure land only then real and sustainable peace comes and Islam is victorious on this pure land . & This is our religious obligation as in below dua of Masoomeen (AS).

[Allaahumma Inni Narghabu Ilaika Fee Daulatil Kareem ,Tu Izzo Bihal Islam wa Ahla ,Wa Tuzillo bihannifaaqa wa Ahla] -

[O Our Lord we are inclined towards a state where Islam and Ahlay Islam are dignified , Nifaaq and Ahle Nifaaq are humiliated ]

Inshaallaah with our blood we shall stamp our ultimate victory too.