Saniha Ashura-e-Hangu
Saneha-e-Ashura, Hungo 2006
SFP Report
On February the Ninth 2006,another incidence of terrorism hit the North- Western parts of Pakistan. When muslims of Hangu,NWFP were mourning the martyrdom of the grandson of Holy Prophet saw, Imam Hussain a.s on the Tenth of the Holy month of Muharram, they came under a suicide bomb attack. The attack took place when the Ashura procession was right outside the main entrance to the Imambargah Paskale. In this incident the death toll rose to 35 and 115 injured among them 29 martyred in the Ashura Blasts and 6 more martyred in a week of violence as per the SFP sources.
Inalilah-e-wa Ina ilaih-e-Rajoon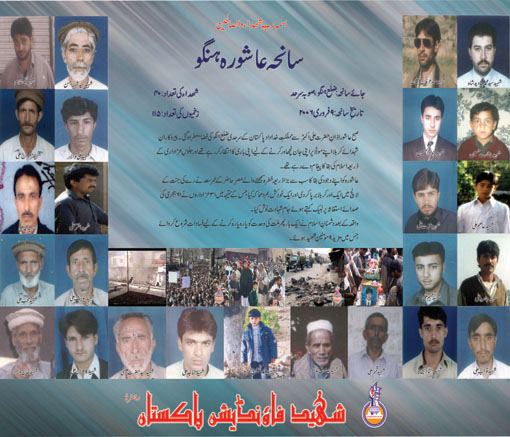 Shia and Sunni ulemas condemned the attacks and many people took to streets expressing their grief and anger against the oppressors. Millate-e-Jaffaria Pakistan protested countrywide demanding from the government to take action against the culprits. In Karachi, the Central procession of Ashura stopped near the Radio Pakistan at M.A Jinnah Road where Ulema and various leaders demanded serious action to be taken against the enemy and criticized on security lapse on part of the government.
The martyrdom of Hangu is another episode of Kerbala where Imam Hussain gave the lesson of standing up against the evil by sacrificing his life. Ashura gives the message of standing up against oppression and injustice. In order to keep the ideology of Imam Hussain alive, we must continue in our efforts to fight for injustice and keeping the mourning sessions going. This paying tribute to Imam Hussain every year and remembering his sacrifice will keep us as a nation alive-a nation who is always ready to fight against oppression and injustice. This is the lesson that Kerbala gives us.
As part of the ongoing clashes and terrorist attacks,an innocent woman who was the wife of Mirza Mehdi,was martyred in mortar shelling while performing chores in her home.
A curfew was declared by the law enforcement agency after the Pakistan military was not able to take control of the situation in the area.
Names and Ages of Shohada-e-Saniha-e-Hangu are as follows:
01- Syed Mohammad Javed Shah (35)
02- Mohammad Irfan (22)
03- Jawad-ul-Hasan (25)
04- Sawab Ali
05- Naqi Ghulam (40)
06- Wajid Ali (21)
07- Sadiq Ghulam (55)
08- Muhib Ali
09- Syed Shabie-ul-Hassan (62)
10- Mimber Ali
11- Asim Ali
12- Syed Noor Asgher (15)
13- Syed Hazrat Essa (60)
14- Ishaq Ali
15- Basharat Ali
16- Syed Ibn-e-Raza
17- Syed Shah Afzal
18- Syed Yousuf Ali (50)
19- Izhar Ali
20- Faheem Ali (21)
21- Akhter Ali (33)
22- Unwan Ali (25)
23- Sajid Ali (22)
24- Mohammad Ameen (52)
25- Riaz Ali
26- Ali Nawaz (20)
27- Izzat Ali (23)
28- Mohammad Ali
29- Dilshad Ali
30- Mehraj Ali
31- Khan Wazir (Ali khail Tribe)
32- Wife of Mirza Mehdi (Martyred by Mortar Shelling)
33- Name not received 34- Name not received 35- Name not received